What effect will US military cuts have on Pakistan?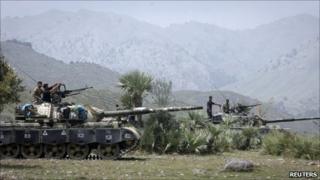 Pakistan is eager to play down the recent American decision to cut a third of its annual military aid budget, as the BBC's M Ilyas Khan reports from Islamabad.
A conference of the army's top brass said last month that it had in any case received far less money than the US had promised over the last 10 years.
It even suggested that current security assistance be diverted to solve the economic problems of the people.
Reacting to the US government's decision on Sunday, an army spokesman reiterated the military's belief that it had the ability to conduct operations against the militants on its own, and that aid cuts would not hamper its progress.
Setbacks
So if the Pakistani military is not affected by the $800m (£500m) cut in security assistance, why have the Americans gone ahead with a decision which many say will reduce its influence over the Pakistani army?
Time and again, the Americans have said that Pakistani military holds the key to peace in Afghanistan.
Pakistan's role in the conflict becomes all the more important as the Americans look for a substantial reduction of their forces in Afghanistan in the coming months.
Many in Pakistan feel the American decision amounts to a "humiliation" of the Pakistani army and will prove to be counter-productive given their goals in Afghanistan.
A Pakistani analyst based in Canada, Kamran Bukhari, says some sections in Washington feel that the Pakistani army is more susceptible to pressure at a time when it has suffered a series of setbacks at home and has lost much public respect.
Many say that the army was at fault for allegedly not knowing that al-Qaeda leader Osama Bin Laden managed to live undetected for months in the city of Abbottabad, almost next door to a major military academy.
They argue that the country suffered international embarrassment when the US operation to kill Bin Laden in May was carried out without the Pakistani military doing anything to stop them.
"[The US] thinks they can use this pressure to correct the civil-military imbalance in Pakistan where the security forces have traditionally dominated the political scene," Mr Bukhari told the BBC Urdu service.
However, he says that such a tactic is unlikely to yield positive results for the US because public opinion is opposed to it, the media remains vibrant and free and there is no military dictatorship in the country.
'Fall guy'
A former Pakistani Foreign Minister, Khurshid Mehmood Kasuri, believes that Pakistani military has the resources to keep itself operating without US military aid money.
He thinks the American decision aims to play into the dynamics of forthcoming US presidential elections.
"They need a fall guy for their failures in Afghanistan, and they think the Pakistan army will fit the job," he says.
But many in Pakistan do not take the aid cuts quite as lightly.
"It is definitely a signal, it may well be designed to call the Pakistani army's bluff when it said it didn't need US aid," says Ayesha Siddiqa Agha, defence analyst and author of the book, Military Inc.
"There could be further cuts if the Americans feel they are not happy with what Pakistan is doing, which can make matters worse.
"Pakistan has major issues with economic solvency, and in the long run there will be an impact on the country's security as well as its political establishment."
Others believe that the impact may start to become visible within a year.
"As our operations in the tribal areas continue, financial pressures will continue to build up and become problematic within six to eight months," says Dr Hasan Askari Rizvi, a political and defence analyst based in Lahore.
"Cuts in military equipment that are used in those operations will undermine the capacity of the armed forces and affect its medium to long-term modernisation programmes," he says.
He says that any cut in US aid is also likely to affect possible disbursements from the International Monetary Fund (IMF) which are crucial to Pakistan's budgetary support.
Aid cuts at this time could be particularly unsavoury given that Pakistan is scheduled to start repaying the IMF loan in less than a year's time, he says.
So what are the options?
Dr Rizvi believes the stalemate could be resolved with two to three months.
"We need their weapon systems and economic support, and they need our services in Afghanistan. We may use pressure tactics against each other to draw mileage for our objectives, but ultimately we have to work together," he concludes.