Bangladesh: at least 44 school children die in crash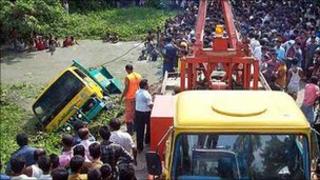 At least 44 schoolchildren died after their vehicle crashed into a pond in south-east Bangladesh, police say.
A group of about 60 boys was returning from a soccer tournament in an open truck when it skidded and fell into the pond, they say.
The accident took place in Chittagong district, 216km (136 miles) from the capital, Dhaka.
At least 10 children are in hospital. Officials have been revising the death toll throughout Monday.
"As soon as the accident happened hundreds of people gathered near the area. Then parents and relatives of the deceased took the bodies away without informing the civil administration," Chittagong District Administrator Foyez Ahmed told the BBC.
"We only had 26 bodies in the hospital initially and then it became 31. Later on we encouraged the relatives of those killed to come forward to give information.
"Police collected information from different areas and now we have revised the [final] death toll."
According to several witnesses the boys were singing and dancing on-board the truck, the Associated Press quoted an official as saying.
Road accidents are common in Bangladesh where an estimated 12,000 people die in various traffic-related accidents every year.
Most are blamed on reckless driving, poor road conditions and old vehicles.