Pakistan: US aid cut will not harm fight against terror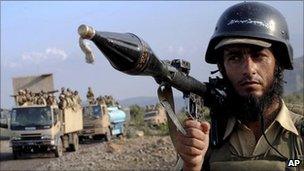 Pakistan's army spokesman has said a cut in US military aid will not affect its ability to combat terror groups.
Gen Athar Abbas told the BBC that Islamabad had not yet been officially told of the reason for the $800m (£500m) cuts or what they would entail.
The money equates to about a third of the annual US security aid to Pakistan.
Announcing the move on Sunday, the US said Pakistan was an important ally but that there were "difficulties" to overcome in their relationship.
White House Chief of Staff Bill Daley told ABC television that Pakistan had "taken some steps that have given us reason to pause on some of the aid".
Pakistan has long been considered a vital ally by Washington in the fight against al-Qaeda and Taliban militants, who use safe havens in Pakistan's tribal regions on the Afghan border.
But many in the US Congress have questioned the value of the more than $2bn in military aid sent to Islamabad each year, particularly following the discovery that al-Qaeda leader Osama Bin Laden managed to live undetected in the city of Abbottabad, almost next door to a major military academy.
The US operation to kill Bin Laden in May this year was carried out without Pakistan being informed in advance.
In a sign of their deteriorating relationship, Pakistan has since expelled more than 100 US military trainers and has threatened to shut down a CIA base. The top US military officer Adm Mike Mullen also suggested last week that the Pakistani government had "sanctioned" the killing in May of journalist Saleem Shahzad.
Gen Abbas said the move would have "no significant effect" on Pakistan's anti-terror efforts. "We will continue our operations as in the past."
Two major military operations currently under way in the Mohmand and Kurram tribal regions were being run without external support and would continue, he said, adding that al-Qaeda and other military groups operating in Pakistan were "not only a threat to us but to others".
Gen Abbas said he could not say which parts of the military would be worst hit until US officials told him what sections of aid were being cut.
But he said Pakistan's army chief had already been asking for military aid to be redirected towards civilian areas, where it was needed more.
The increasing US drone attack on militants inside Pakistan along the Afghan border is also a continuing source of antagonism - there are regular complaints of civilian casualties.
On Sunday, Mr Daley accepted that Pakistan had been "an important ally in the fight on terrorism" while also being "the victim of enormous amounts of terrorism".
But he said there was "a complicated relationship in a very difficult, complicated part of the world.
"Obviously, there's still lot of pain that the political system in Pakistan is feeling by virtue of the raid that we did to get Osama Bin Laden, something that the president felt strongly about and we have no regrets over.
"Until we get through these difficulties, we will hold back some of the money that the American taxpayers have committed to give them."
A New York Times article on Saturday said some of the suspended aid had been earmarked as compensation for Pakistan's redeployment of troops to Afghan border areas to fight militants. Other cuts were in military equipment.
In figures submitted to the International Monetary Fund last autumn, Pakistan's defence expenditure in its 2010-2011 budget was put at $6.41bn - an increase of $1.27bn on the previous year.