Bangladesh shut down by strike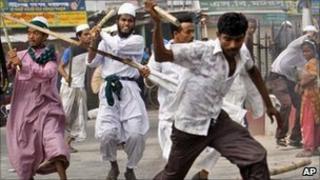 A 30-hour general strike called by Islamist groups has shut down schools and businesses across Bangladesh.
Clashes between security forces and protesters on Sunday left at least 50 people injured.
More than 100 people were arrested in the protest over a constitutional amendment dropping the phrase "absolute faith and trust in Allah" from the preamble of the constitution.
It is the fourth country-wide shutdown in less than a week over the issue.
On Sunday, thousands of protesters, many carrying sticks and stones, blocked roads and damaged vehicles outside the capital, Dhaka.
The protesters, many of them wearing Islamic prayer caps, threw stones at police.
The security forces responded by firing rubber bullets and tear gas to disperse them.
The latest strike which began on Sunday morning was called by a coalition of 12 Islamic parties to protest against the recent constitutional amendment which restores secularism as a principle in Muslim-majority Bangladesh.