Is Pakistan's army going soft?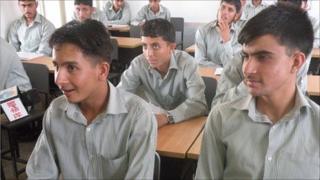 Former militants in their old stronghold Swat in north-west Pakistan are being taught computers and "de-radicalised". The BBC's M Ilyas Khan attends an unusual seminar hosted by Pakistan's army amid speculation that it is engaged in a project to improve its own image after months of setbacks.
In 2007 Anwar Shah became a low-level facilitator for the Taliban when militants swept into his village in the Gulibagh area of Swat and occupied it.
Today the 35-year-old has completed 11 weeks of psycho-social, religious and vocational training at Mashal, an army-run centre for the "de-radicalisation" of Taliban prisoners.
Military officials there say that he will be "re-integrated with the society" this week, along with 89 others.
Mr Shah says he surrendered to the army in early 2010 to clear his name. For a year he was held at a detention centre but for the past three months he has been studying computers at Mashal.
"The army has treated us well, and trained us in vocations that will help us earn a living after we are released. The army will even help us find jobs here or abroad," he says.
Others at Mashal have similar words of praise for the army. The average age of Mashal inmates is 30 and they are visibly cautious about what they say to the media.
The programme was the show-piece of a major public relations exercise by the army this week when it flew in or drove overland hundreds of domestic and international journalists to Mingora, the administrative centre of Swat, to attend a three-day seminar on de-radicalisation.
'Isolation'
Younger students at a nearby centre for juveniles, also part of the de-radicalisation programme on show, however, were not so guarded about the reality of the programme.
Two students, aged 14 and 15, to whom I spoke in confidence and in their native Pashto language, expressed their sense of isolation, saying they would rather live with their families.
Swat, and its adjoining districts were overrun by the Taliban in 2007-08: the militants destroyed schools, banned female education and dispensed their brand of street justice.
In April 2009, nearly two million people fled the area ahead of a military operation that ultimately succeeded in evicting the Taliban from the region.
Thousands of hardcore fighters and their local enablers were either arrested, surrendered voluntarily or were turned in by their families.
They are still being held by the army while parliament contemplates special laws to ensure they do not escape justice.
In 2010 the army decided to screen prisoners in order to separate out hardcore militants. They put the rest through this de-radicalisation programme.
Thousands of soldiers were deployed along hundreds of kilometres of roads leading up to Mingora for the seminar. More than half a dozen major hotels in town were booked by the army to house the participants.
For three days, life remained paralysed around the venue of the seminar as most roads were repeatedly blocked for traffic, including the approaches to two hospitals in the area.
Inside the venue, the army broke fresh ground by projecting a softer image of itself.
Army image
Most speakers invited to offer their analysis of the origin and causes of radicalisation were well-known critics of the military's role in politics.
The army's decades-old policy of controlling domestic politics and creating proxies to fight its wars in the region was singled out as one of the major factors that radicalised Pakistani society and led to regional instability.
Scholar and analyst, Rasool Bukhsh Raees, who chaired the first session of the seminar, told me there could be several reasons why the army decided to hold this seminar.
"They have invited scholars from abroad, who will go back and talk about their de-radicalisation programme. This may help raise donor funds to extend this model to other trouble spots in Pakistan."
The military's decision to expose itself to criticism also indicated the willingness of the army to "create an alternative narrative" to counter, or at least to soften, the "dominant narrative which is Islamist, pro-Taliban and anti-West", says another scholar and analyst, Hasan Askari Rizvi.
"An underlying message may well be to tell the West that we are serious in our fight against extremism," he said.
Mistrust
Many were of the opinion that it was also an effort by the army to rehabilitate its own image after it was badly tarnished when a team of US commandos penetrated Pakistani defences to kill Osama Bin Laden in a Pakistani garrison town in May.
But there was also a message that Pakistan did not agree with everything the West wanted to achieve in the region.
Talk of "mutual respect" in ties with the Western powers and opposition to drone strikes in Pakistan punctuated the proceedings of the seminar, and were echoed in the concluding remarks delivered by Prime Minister Yousuf Raza Gillani.
If the army is finally stepping back from political decision-making and is willing to cede space to the civilian administration, many in Pakistan will see this as a positive development.
But the effects of this thinking will become visible only in the long run. In the short run, few people in Swat are convinced about the army's intentions.
"The army is clearing up the debris of a mindset which it had itself created and allowed to grow," says Fazle Maula, a senior member of Swat's Council of Elders.
"It will take years for them to convince the people of Swat that they are not doing it any more."