Karachi: 'Shoot on sight' orders as violence soars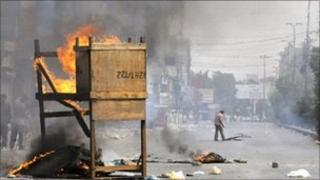 Security forces in the Pakistani city of Karachi have been ordered to shoot on sight to stem violence in which 80 people have been killed since Tuesday.
The violence is widely blamed on armed gangs from rival political parties.
Pakistan's biggest city is virtually shut down. Many shops, schools and offices are closed and there is hardly any traffic on the streets.
Most people are staying at home fearing more violence. The government says it has deployed an extra 1,000 troops.
Karachi's main political party, the MQM, which resigned from the government last week, has called for a day of mourning.
"People are stuck at home; their food and rations are finishing," Karachi resident Mohammad Shahid said. "Where is the government? Where is the police?"
Sharjeel Memon, the provincial information minister, said: "We have issued orders to the security forces to shoot anyone involved in violence on the spot.
"In addition to the police and Rangers, another 1,000 personnel of the Frontier Constabulary will be deployed in the city to control the violence."
Interior Minister Rehman Malik said that most of those who had died were innocent people. "Very few are politically affiliated people," he said.
He added that 89 people had been arrested for involvement in the violence.