British Bangladeshis battle against drugs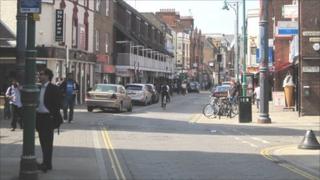 The benefits of generations of Bangladeshis migrating to London's East End, with its rich and colourful array of Asian shops and businesses, are everywhere to be seen, But, as Moazzem Hossain of the BBC's Bengali service reports, there is a dark side behind the exotic colours, sounds and smells.
Brick Lane on a Friday evening is full of life and vividly depicts the success story of many British-Bangladeshi immigrants.
Their restaurant trade helped turn this once somewhat rundown area into one of the most vibrant and iconic streets of London.
But a few hundred yards away in the dark alleys of Whitechapel, you come across a completely different world.
"I can see young Asian boys and girls… they wait in the streets, late at night. They beg money from you. I know they are involved in drugs," says local resident Fakhruddin Ahmed, a cab driver.
Mr Ahmed's two children are 16 and 17, and he now fears for their future.
"I am now very worried about my own children, because I can see what's happening to these young boys and girls. They are involved in marijuana and other activities, you know."
Compared with other immigrant groups in the UK, drug abuse among British-Bangladeshis is still low.
"But that picture is changing, especially in areas like Tower Hamlets, where there is a huge British-Bangladeshi population. It's the largest Bangladeshi community outside Bangladesh," says local councillor Kabir Ahmed.
Social workers and community leaders are perplexed as to how a very traditional and hardworking community, with conservative religious and social values, aquired this problem.
"We can put it down to a number of issues... ranging from social deprivation and lack of space within houses," Mr Ahmed says.
"As a result [we have] this kind of culture of standing around on street corners and [from that] everything develops."
In the beginning it was mostly British-Bangladeshi men who got involved in drugs.
But drug workers are now reporting that drug abuse among British-Bangladeshi women is also on the rise.
Social workers say that some of them have been forced into prostitution, and some have children.
The fear of having their children taken away has stopped many of them from engaging in treatment services.
'Sex and drugs'
Kia Abdullah is a British-Bangladeshi writer who grew up in East London.
When she published her first book, Life, Love and Assimilation - based on her own life story - it immediately created a huge uproar among the Bangladeshi community in the UK.
The main character in the book, a young Bangladeshi girl, has a drug addict brother. He steals things from home to fund his drug habit and is in constant fights with his sisters.
Says Ms Abdullah: "What I described in the book is fairly true to life. Some of the conflicts, the outbursts, the description of how we had to live - by that I mean locking up all our possessions for fear of them being stolen, being sold for drugs, - all of that description was based on my experiences," she said.
Drug addiction among the younger generation of British-Bangladeshis has been known about for years, but her book was the first insider's view of the problem.
The strong reaction Kia Abdullah received from the community took her by surprise. Her own family denounced her for what they saw as "hanging out dirty laundry". She received numerous hate mails calling her "a traitor".
State of denial
"Everybody knew what was happening. Young Bangladeshis, just like in any other community, were abusing drugs. You just didn't discuss it openly. They were in a state of denial," says Tohel Ahmed, who runs a drug rehabilitation centre in east London.
On a Friday afternoon, a group of British Asian men gather in a ground floor room of a large Victorian house in Whitechapel.
Most of them are in their 20s and 30s. They are trying to return to normal life after suffering long periods of drug addiction.
In this rehabilitation centre, run by a charity called Nafas, they play table tennis and pool before joining a session of group therapy.
"Every year we get about 300 clients and 60% of them are British-Bangladeshis," says Mr Ahmed.
He says that more and more Bangladeshi men and women are coming forward to get treatment.
Shamsuddin (not his real name) is one of the people attending the sessions.
"It started with cannabis basically," he tells me. "Then I was introduced to heroin by somebody older. He gave us a few tasters, showed us how to do it... and that was it. For about 16-18 years, I have been doing the same thing, you know - drugs, drugs and drugs."
'Honour' concept
Shamsuddin says that when his parents came to know about his problem for the first time, they did not know what to do.
"But they never had any idea as to how to help me. There was help out there but they didn't know it. They felt isolated."
Social workers say that a lack of drug education among British-Bangladeshi parents is a serious problem.
But writer Kia Abdullah thinks the so-called "honour" concept within the Asian community has also played a big part in repressing the problem for so long.
Shamsuddin is now on the road to recovery and looks forward to working with others to help them beat their addictions.
But when he steps out on the street, it pains him to see how other young people are being sucked into the habit.
"I know who they are, I know what they are going through. What situation they are in. Some people I see, you know, wobbling around… drunk… clutching bottles, their trousers halfway down to their knees.
"Bless their souls, one day they're going to realise that there is life without drugs. What I want to say is: without the drugs life is beautiful."