Afghan protest at civilian deaths 'in Nato air strike'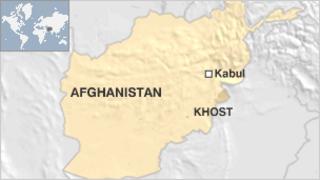 Hundreds of people have held a protest in eastern Afghanistan about the deaths of up to 13 civilians, including women and children, in a Nato air strike.
The international alliance confirmed that civilians were accidentally killed in a battle with insurgents on Tuesday night in Khost province.
Taliban insurgents have launched many attacks in the restive province, which lies on the border with Pakistan.
But the issue of civilian casualties at the hands of Nato is highly sensitive.
The events late on Tuesday night in Khost began with a gun battle.
Nato says that Afghan and foreign soldiers were looking for insurgents belonging to the militant Haqqani network when they came under fire.
It was dark and the insurgents were hiding among trees, according to the alliance. An air strike was called in, killing four Haqqani fighters. On further investigation, eight children and three women were found to be among the dead. Local villagers say two other men were also killed.
Military sources say they were unaware that the civilians were there and believe that they were the insurgents' family members, the BBC's Quentin Somerville in Kabul reports.
The police chief of Khost province, Sardar Mohammad Zazi, told the BBC that the attack took place during a joint operation targeting a Haqqani militant commander.
Widespread anger
But on Thursday hundreds of people blocked a highway to protest against the deaths.
"This morning, the tribe of Zadran decided this was injustice, so close to 2,000 people came and blocked the Khost -Gardez highway,'' a villager told the BBC's Bilal Sarwary in Kabul.
There is widespread anger among Afghans about civilian casualties.
The number of civilians killed in Afghanistan since the US-led invasion a decade ago hit record levels in 2010, according to a report by the Kabul-based Afghanistan Rights Monitor in February.
Some 2,421 civilians were killed, most at the hands of insurgents, the group said. Foreign troops were to blame for about a fifth of all deaths - a slight fall on the previous year, according to the report.
President Karzai has issued several warnings to the Nato-led mission that killing Afghans, even by accident, is unacceptable. He has called for an end to night missions.