Afghan parliament boycotted after two female MPs brawl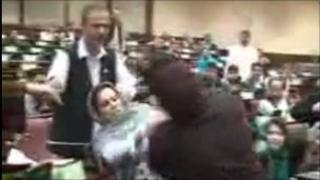 Ten members of the Afghan parliament have boycotted the chamber in protest at a brawl between two female parliamentarians.
The fight started when parliament was debating a recent spate of rocket attacks into Afghanistan from Pakistan.
Nazifa Zaki, a former army general, threw her shoe at fellow MP Hamida Ahmadzai, who then hurled a plastic water bottle at her.
The brawl has dominated the headlines on local TV, radio and newspapers.
A video of it has been posted on the internet by Tolonews.com. It shows Gen Zaki angrily leaving her seat in parliament and advancing menacingly towards Ms Ahmadzai, who throws the water bottle at her as she draws closer.
Gen Zaki is then seen trying to punch her rival and the two begin to tussle before other members of parliament move in to break the fight up.
The scuffle took place on Tuesday as President Karzai's supporters and detractors yelled insults at one another.
It began when a group of MPs wanted to summon the president about rocket and artillery attacks coming from Pakistani soil - a highly contentious parliamentary issue.
Ms Ahmadzai called for two of the country's vice presidents to be summoned, a call that infuriated Gen Zaki.
The 10 MPs who boycotted parliament on Wednesday morning urged the Speaker to expel Gen Zaki.
Speaker Abdul Rauf Rahimi told parliament: ''I know she has done wrong. I will invite her to my office and ask her why she did this.''
Gen Zaki told the BBC that the matter was "an issue between two colleagues".
"It is over now. The media shouldn't get involved in matters between parliamentarians,'' she said.