Police clash with protesters in Bangladesh strike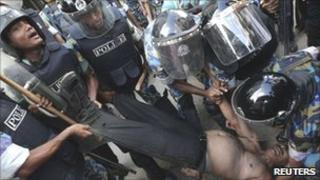 Police in Bangladesh have used batons to disperse protesters in the capital Dhaka during a 48-hour countrywide strike called by the main opposition.
The Bangladesh Nationalist Party called the strike in protest against a move to scrap caretaker administrations in the run-up to elections.
The opposition says that any elections overseen by the incumbent government would not be free and fair.
BNP officials said a senior party leader was injured in a baton charge.
Most offices and businesses have been shut and public transport has been severely disrupted across the country.
A senior official said cargo deliveries had been suspended in the main port of Chittagong.
Police say about 10 vehicles were torched in Dhaka in overnight violence, with at least eight people being given jail sentences by mobile courts on charges of damaging public property.
Parliament last week passed a bill abolishing neutral caretaker administrations.
They took over the running of the country at the end of an elected government's fixed term and were responsible for ensuring elections were free and fair.
But the governing Awami League argues that the caretaker system allowed the army to take power by the back door in 2007, and remain in power until the end of 2008.
The BNP has threatened to launch more protests if the caretaker administration system is not restored.