Cargo plane crash in Afghanistan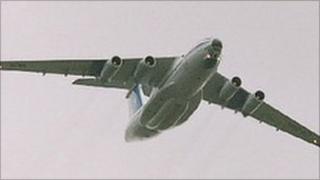 An Azeri cargo plane chartered by foreign forces has crashed in eastern Afghanistan, officials say.
The Russian-made Ilyushin IL-76 was carrying nine crew when it went down overnight in the mountainous Siagerd area. The crew's fate is unclear.
Reports said the plane was carrying tonnes of supplies from Baku in Azerbaijan to Bagram base near Kabul.
The cause of the crash is not known. There were no reports of bad weather or insurgent activity in the area.
Azeri state air company Azal said in a statement: "On 6 July, at 0010 Kabul time, an Il-76 cargo plane belonging to Silk Way Airlines and heading from Baku to Bagram, crashed 25km from Kabul.
"According to preliminary information, the crash may have been the result of a collision with an unknown object."
Officials fear all those on board were killed.
Rescue workers have been sent to the remote area high in the Shakar Dara mountains where the crash occurred.
"There was a big explosion when the aircraft hit the mountains late last night," Abdul Haleem, the district chief of Siagerd, told Reuters news agency.
There have been a number of plane disasters in Afghanistan recently.
In October, a cargo plane crashed into a mountain near the Afghan capital, Kabul, killing eight people on board.
In May 2010, a commercial passenger jet operated by the private airline Pamir Airways with 44 people on board crashed, also in the Shakar Dara mountains.