India: Dismissed athletics coach denies dope charges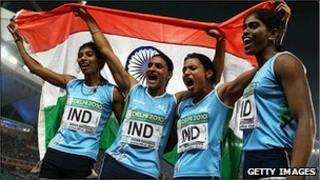 India's dismissed Ukrainian track and field coach has said he has no role in the doping scandal involving athletes.
Yuri Ogorodnik trained six of the eight athletes who were suspended in the past week for failing dope tests.
Three of them are from India's 2010 Commonwealth and Asian Games gold medal-winning women's 4x400m relay team. One of them said food supplements might have caused her to test positive.
Mr Ogorodnik had been with the Indian team for more than two years.
On Monday two female athletes tested positive for banned substances and were suspended. Six other athletes - five women and one man - were suspended after failing doping tests last week.
The Sports Authority of India (SAI) has been ordered to investigate how the banned substances reached a training camp in the northern city of Patiala.
Mr Ogorodnik said he had told the athletes to "buy only food supplements and not steroids".
"I am not a fool to tell athletes to buy and consume banned substances. I have given only medals, and not steroids," he was quoted as saying by the Press Trust of India news agency.
"I don't know how the supplements would have contained the steroids. I have only asked the athletes to buy food supplements," Mr Ogorodnik said.
Mandeep Kaur, one of the suspended athletes, has argued that food supplements might have caused her to test positive - she argued that she would be "a mad person" if she took steroids to enhance performance.
The six athletes suspended last Friday included two members of the 4X400m Commonwealth Games relay team, Ms Kaur and Sini Jose.
The athletes suspended on Monday included a third member of the team, Ashwini Akkunji and sprinter Priyanka Panwar. Officials said they had tested positive for anabolic steroids.