Pakistan: US drone strike kills four near Afghan border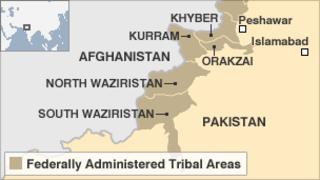 A US drone strike has killed at least four militants in Pakistan's North Waziristan province, close to the Afghan border, local officials said.
Two missiles were fired at a house used by suspected militants in Mir Ali, 30km (19 miles) from Miranshah, the main town in the district, they said.
North Waziristan has been targeted by drone strikes for months.
The US says the region is home to several militant groups involved in attacks on Nato forces in Afghanistan.
Security officials told the Reuters news agency that militants had cordoned off the area after Tuesday's attack destroyed the house in Mir Ali.
Drone attacks have focused on North and South Waziristan, where US officials believe many al-Qaeda and Taliban fighters find shelter.
The American military does not routinely confirm drone operations.
Pakistan publicly criticises drone attacks, saying they fuel support for militants. But observers say the authorities privately condone the strikes.