Karachi: Report says 1,100 killed in first half of 2011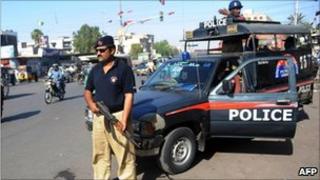 More than 1,100 people have been shot dead in political violence in the Pakistani city of Karachi since the start of the year, campaigners say.
The Human Right Commission of Pakistan criticised city officials for failing to stop the targeted killings.
Much of the violence is associated with battles between rival criminal gangs.
But the chairman of the human rights commission also alleged that many of these armed gangs have the support of the city's main political parties.
As a result they are allowed to act with impunity, commission chairwoman Zohra Yusuf told a news conference.
The BBC's Shahzeb Jillani in Karachi says planned killings and drive-by shootings are now an almost daily occurrence in Karachi, the largest city and port in Pakistan and a major industrial and commercial centre.
Our correspondent says the city, which generates nearly half of Pakistan's total revenue, is plagued by extortion rackets, mafia-run land-grabs and turf wars waged by armed groups fighting for their share of resources.
Many fear that with last week's resignation from the government by the city's main political party - the MQM - increased violence and instability could bring Pakistan's economic capital to a grinding halt.
According to human rights organisations, 775 people died in political and sectarian shootings and bomb attacks in Karachi in 2010. The government put the figure lower, at about 500 people.