India sacks athletics coach Yuri Ogorodnik over doping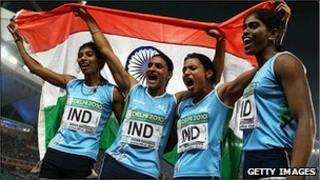 India has dismissed its Ukrainian track and field coach after eight athletes were suspended in the past week for failing dope tests.
Yuri Ogorodnik trained six of the eight athletes who tested positive.
"We are removing Ogorodnik immediately and are also considering removing other foreign coaches," Sports Minister Ajay Maken told reporters.
Mr Ogorodnik had been with the Indian team for more than two years. He has so far not commented on his sacking.
On Monday two female athletes tested positive for banned substances and were suspended. Six other athletes - five women and one man - were suspended after failing doping tests last week.
'Very disturbing'
The Sports Authority of India (SAI) has been ordered to investigate how the banned substances reached a training camp in the northern city of Patiala.
"The athletes have disgraced the whole nation and it's very disturbing for us," Mr Maken said.
"Athletes will get their punishment in the form of suspensions, bans and losing their medals... but we can't let the coaches and any official involved in this episode get away scot-free."
The ministry took action after eight athletes failed drugs tests within the space of seven days, three of them from India's 2010 Commonwealth and Asian Games gold medal-winning women's 4x400m relay team.
Officials say that the athletes suspended on Monday - Ashwini Akkunji and Priyanka Panwar - tested positive for anabolic steroids.
Ms Akkunji was part of the women's 4x400m relay quartet in the Commonwealth Games.
"We have provisionally suspended them. They will now be called for 'B' sample tests and then the necessary procedure will be followed," Athletics Federation of India (AFI) Director ML Dogra said.
The two women have not so far commented on the allegations made against them.
The six athletes suspended on Friday included two other members of the 4X400m Commonwealth Games relay team, Sini Jose and Mandeep Kaur.
Ms Kaur argued that food supplements might have caused her to test positive - she argued that she would be "a mad person" if she took steroids to enhance performance.