India: Two more athletes fail doping test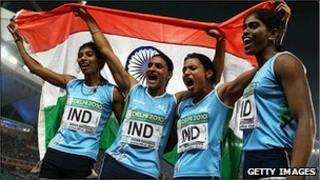 Two more Indian athletes have tested positive for banned substances, the Athletics Federation of India has said.
Ashwini Akkunji, part of the women's 4x400m relay quartet in the Commonwealth Games, has been provisionally suspended.
News of the suspension came hours before she was to fly out for this week's Asian Championships in Japan.
Six Indian athletes - five women and one man - were suspended after failing doping tests on Friday.
Also provisionally suspended on Monday was quarter-miler Priyanka Panwar.
"It is sad that two more athletes - Ashwini Akkunji and Priyanka Panwar - tested positive for anabolic steroids," Athletics Federation of India (AFI) Director ML Dogra said.
"We have provisionally suspended them. They will now be called for 'B' sample tests and then the necessary procedure will be followed."
The two women have not so far commented on the allegations made against them.
Mr Dogra said the latest development meant that the AFI did not have time to name replacements for Ms Akkunji and Ms Panwar in the Japan event.
"We cannot send any replacements for the two athletes now, but we will field a relay team in Japan," he said.
"Two other athletes from the squad will run in the relay," he said.
Correspondents say that India's National Anti-Doping Agency (Nada) has been jolted by recent dope scandals and plans to increase the number of samples it collects.
It has also threatened to raid athletes' rooms to catch prospective drugs cheats.
The six athletes suspended on Friday included two other members of the 4X400m relay team that won the gold in last year's Commonwealth Games, Sini Jose and Mandeep Kaur.
Ms Kaur argued that food supplements might have caused her to test positive - she argued that she would be "a mad person" if she took steroids to enhance performance.