Pakistan begins offensive in the Kurram tribal region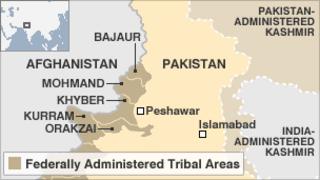 Security forces in north-west Pakistan have begun a military offensive against insurgents in the Kurram tribal region, officials say.
The area is part of Pakistan's tribal areas near the Afghan border.
Initial reports suggest that so far they have met little resistance.
Thousands of civilians are fleeing targeted areas, many taking shelter in relief camps. Telephone networks in the area have been closed down as the offensive continues.
Pakistan's military has carried out a series of military offensives in the tribal areas in recent years.
Last week Pakistani military jets pounded suspected militant positions in Kurram in advance of Monday's offensive.
It holds a large concentration of militants fleeing another military operation in Orakzai.
The Kurram region has a history of sectarian violence between Shia and Sunni Muslims.
In February a peace deal in Kurram was brokered by Pakistani security forces and guaranteed by members of the Haqqani network - a branch of the Afghan Taliban based in Pakistan.
Shia Muslim tribes had been waging a three-year war to keep the Taliban out of the area.
However the BBC's M Ilyas Khan says that militant groups operating in other tribal regions launched a number of attacks in an effort to undermine the deal.