Pakistan: Religious groups condemn US embassy gay event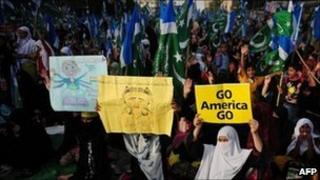 A group of religious conservatives in Pakistan has condemned a recent event hosted by the US embassy in Islamabad in support of gay rights.
The meeting was described as "cultural terrorism" in a statement issued by Pakistan's largest Islamic party, on behalf of various religious groups.
The embassy described last week's event as its first gay, lesbian, bisexual and transgender pride celebration.
There is nothing explicit about homosexuals in Pakistan's constitution.
But it is considered to be illegal and under Sharia laws in Pakistan, which were introduced in 1990, homosexual acts can draw punishments of whipping, imprisonment or even death.
"Such people are the curse of society and social garbage," the statement released by Jamaat-e-Islami read.
"They don't deserve to be Muslim or Pakistani, and the support and protection announced by the US administration for them is the worst social and cultural terrorism against Pakistan," the statement, which was issued in Urdu, is quoted by the AP news agency as saying.
The statement also described the event as the second most dangerous attack by the US after drone and missile attacks.
At the event the US deputy ambassador to Pakistan said that the US would support gay, lesbian, bisexual and transgender rights in Pakistan.
"I want to be clear: the US embassy is here to support you and stand by your side every step of the way," he is quoted as saying in a statement on the embassy website.