India: Six athletes fail doping test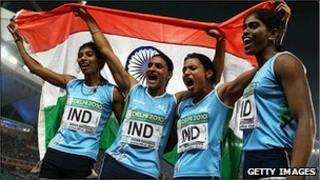 Six Indian athletes - five women and one man - have been suspended after failing doping tests, officials say.
They include two members of the 4X400m relay team that won the gold in last year's Commonwealth Games, Sini Jose and Mandeep Kaur.
Kaur has said food supplements may have caused her to test positive.
Sprinters Tiana Mary and Jauna Murmu, shot putter Sonia Kumari, and long jumper Hari Krishnan - the only man among the six - also failed the tests.
They were conducted at a national championship.
India's athletics authorities announced on Thursday that Krishnan, Jose, Mary and Kumari had tested positive for anabolic steroids and had been "provisionally suspended".
Kaur and Murmu had been suspended on Wednesday, they added.
Jose, Kaur and Murmu were expected to be part of the squad for the Asian Championships in Kobe, Japan, which begins on 7 July.
"So many athletes testing positive is a matter of concern and we will look into it," senior athletics official Manohar Lal Dogra told the Associated Press news agency.
During last October's Commonwealth Games in Delhi Indian walker Rani Yadav tested positive for a banned anabolic agent and was suspended. She had finished sixth in the women's 20km.
India performed well in track and field at the Games, and won only its second gold on the track when the women's 4x400m relay sprinted to victory.
Mandeep Kaur denied knowingly taking steroids.
"I am not a mad person that I would take steroids to enhance performance," she told the Times of India. "Steroids remain inside the body for three months.
"I suspect the food supplements, vitamins we took could have created the problems."