Afghan bus hit by roadside bomb in Nimroz province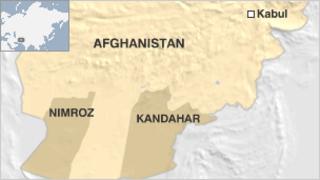 At least 13 people have been killed after a passenger bus in southern Afghanistan hit a roadside bomb, police officials say.
The attack took place on the highway between Kandahar and the south-western province of Nimroz.
Nimroz police chief Abdul Jadar Pordalai said more than 30 people had been injured.
He told the BBC that women and children were among the victims of the blast, which he blamed on the Taliban.
The road targeted is used by Afghan security forces as well as vehicles from the US-led international coalition.
There was no immediate claim of responsibility for the bombing.
In the past, the Taliban have distanced themselves from similar attacks resulting in civilian casualties.
US forces took some of those injured to be treated at a hospital in the area, Mr Pordalai said.