Pakistan Saleem Shahzad murder inquiry starts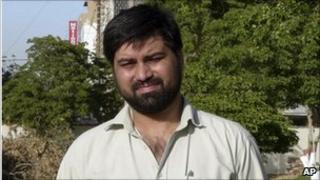 An inquiry constituted by the Pakistani government to investigate the murder of journalist Saleem Shahzad has started work, officials say.
An inquiry member told the BBC that Monday's sitting decided on its modalities and its time-frame.
Mr Shahzad was kidnapped from near his residence in Islamabad last month. His body was found in nearby Punjab province a day after the abduction.
The hearings will not be open to public or the media, officials say.
But in a recent ruling, Pakistan Chief Justice Iftikhar Chaudhry advised the government to make the findings of the inquiry public.
The BBC's M Ilyas Khan in Islamabad says the government ordered the inquiry after much foot-dragging and noisy agitation by journalists.
Many in the media have pointed fingers at the ISI intelligence service for Mr Shahzad's murder, but the ISI denies any involvement.
Hearings will be held behind closed doors because the inquiry is likely to handle "sensitive" information, officials say.
The government has ordered a number of inquiries into cases of rights abuses, murders and military failures, but their findings have seldom been made public.