What is wrong with the Indian economy?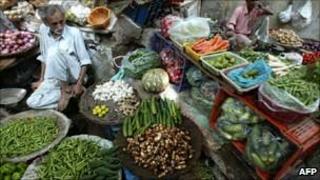 The irony was inescapable for Indians when last Friday global oil prices tumbled, yet the government announced a hike in the prices of diesel, kerosene and cooking gas.
Such a move will further stoke inflation in Asia's third largest economy. India's wholesale prices have already increased by 9.1%, and looks certain to touch double digits in the days to come.
High inflation is hurting growth. The government thinks GDP growth will slow to between 7.5 to 8% during the fiscal year ending April 2012, down from 8.5% between 2010-11.
No wonder then that the stock markets have been bearish. Foreign investors - both direct and portfolio - are suddenly wary of pumping money into one of the world's largest and fastest-growing economies.
The upshot is that India's once booming stock markets are presently under-performing and are well below the peak levels of January 2008.
Slowdown
Industrial production has also slowed, dragged down by a slump in capital goods output.
To add to these worries, foreign direct investments (FDI) have fallen by a quarter, they are $19bn (£11.9bn ) this fiscal year, down from $25bn (£15.7bn) in 2009-10.
What is going wrong with the Indian economy, the fourth largest in the world in terms of purchasing parity?
Clearly, a number of internal and external factors are to blame.
Inflation is one and Prime Minister Manmohan Singh has warned that the country's rapid economic growth is under "serious threat" from inflation.
What is worse for India's poor - at least one out of four people survive on less than a dollar a day - is that overall inflation is being led by high food prices, especially the prices of protein items and also of vegetables, fruit and dairy products.
Inflation is also being fuelled by a surge in international oil prices - India imports 84% of its oil.
The government says it is being forced to increase fuel prices because of costlier imports, the mounting losses of the state-run petroleum refining and marketing companies and widening budget deficits.
To tame inflation, India has tightened monetary policy, raising interest rates 10 times since March 2010.
With money becoming dearer to borrow, investments have slowed down.
India was able to buck the global recession in 2008 to a large extent by increasing spending on welfare schemes, including a massive jobs for work programme in villages.
Before the recession, the economy grew at nearly 9% for four years in a row, slowed down to just over 6.5% in 2008-2009, and then rose to 8% the following fiscal year.
The Congress-led government has come under fire not being able to rein in inflation, particularly double-digit food inflation.
It has also been rocked by a number of corruption scandals, which have dented its image.
The biggest of these is the telecoms scandal, where a former minister is accused of selling mobile phone licenses to firms at a fraction of their real value in exchange for bribes in 2008. The minister denies the charges.
Creaky
Not surprisingly, foreign investments in the world's second-largest market for mobile phone services have come down sharply in recent months.
And no new economic initiatives appear to be under way barring a right to food law.
The government's critics say much remains to be done to create jobs and improve India's creaky infrastructure.
In large parts of the country, electricity supply is erratic, roads are in poor condition and water supply is uncertain.
The country's healthcare and education systems are badly in need of resources.
Agriculture, which provides more than half of India's population a precarious livelihood, has grown at a relatively tardy pace.
Even the services sector - including computer software and business process outsourcing companies - are not growing as fast as they were on account of the slow and uneven recovery from the recession in the West.
Despite comfortable stocks of wheat and rice, the distribution of cereals is inefficient. The problem is compounded by poor storage facilities.
India's farmers are vulnerable since 60% of the country's farms are rain-fed without any irrigation facilities and dependent on a four-month-long monsoon during which 80% of the year's total rainfall takes place.
Although many predict a good crop as a result of the current monsoon conditions, prices of food may not fall immediately.
So there appears to be no short-term solution in sight to end the misery of high prices and low growth.
The author is a leading analyst on the Indian economy