Pakistan denies rocket attacks on Afghan border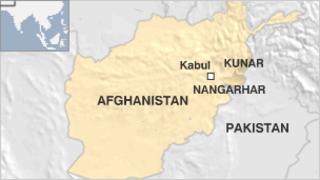 The Pakistani army has rejected claims made by Afghanistan that it has fired more than 450 rockets into Afghan territory over the past three weeks.
But a spokesman told the BBC a "few accidental rounds" may have landed in Afghanistan as the army battles Taliban militants entrenched in the area.
Afghan President Hamid Karzai said rockets had killed 36 people.
Meanwhile officials in north-western Pakistan say they are setting up camps for about 15,000 internal refugees.
They are expected to be uprooted by an impending Pakistani military operation.
Afghan officials say hundreds have fled parts of Kunar and Nangarhar provinces.
Nato forces have significantly scaled back their presence along the Afghan-Pakistan border in these provinces and border officials say the Pakistani Taliban has moved into these unstable districts.
The rocket attacks are alleged to have begun in earnest about three weeks ago and Afghan officials claim Pakistani military shells have been landing in Afghan villages along the border.
Improving relations
President Karzai met the Pakistani army chief of staff on Monday to discuss the issue at the presidential palace.
Afghan officials say that the president voiced "great concern" about the issue and asked for it to stop immediately. They also said Pakistan's army chief assured them that an investigation would soon be launched into the incidents although that has not been confirmed by officials in Islamabad.
President Karzai also raised the issue of rocket attacks with Pakistani President Asif Ali Zardari at a regional anti-terrorism conference in Tehran on Saturday.
President Karzai has been criticised for not pursuing an aggressive enough line with Pakistan, the BBC's Bilal Sarwary in Kabul says.
Over the last year relations between the countries have become more cordial not least, our correspondent says, because Kabul considers Pakistan crucial to any future role for the Taliban in Afghan government.
On Sunday night at least 35 shells were fired into the Sarkano district of Kunar province, the commander of Afghanistan's border police forces told our correspondent in Kabul.
"We have seized shrapnel from the area. People have got killed, houses have been destroyed and in the last 24 houses our forests have caught fire as a result of the shelling," General Aminullah Amarkhel said.
Exodus expected
But Pakistan's military spokesman said that it was simply "not true" to say that rounds had been intentionally fired into Afghanistan.
He said that in the last month hundreds of insurgents crossed into Pakistan and attacked border posts, killing more than 100 security personnel.
The dispute comes as Pakistani military jets pounded suspected militant positions in the central Kurram region.
Hundreds of people have already fled the area after several days of air strikes. Officials say that they expect a larger exodus once the ground offensive in the area begins.
Kurram holds a large concentration of militants fleeing another military operation in Orakzai and an expected operation in North Waziristan.
"We have been asked to make preparations for 1,500 families who are expected to be displaced across an 80 square kilometre area of central Kurram region which will be the target of the ground offensive," Haseeb Salarzai, an official of the Fata (Federally Administered Tribal Areas) Disaster Management Authority, told BBC.
Pakistani officials have conceded that in their battle with the militants it was possible that a few stray rounds crossed the border.
In recent weeks, Islamabad has complained of a number of cross-border militant attacks in Pakistan's north-west and has lodged official protests with Kabul over the incursions.
In the latest attack on 16 June more than 200 militants are said to have stormed a Pakistani village near the Afghan border.