Afghanistan: Eight-year-old girl 'used in attack'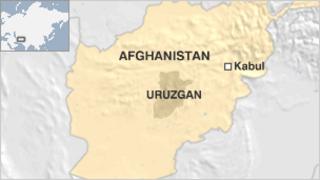 An eight-year-old girl has been killed after insurgents used her in a bomb attack on police in southern Afghanistan, the government has said.
The interior ministry said insurgents gave the girl a package and told her to take it to a police vehicle, detonating it as she approached.
No-one else was killed in the explosion, in Uruzgan province.
The incident came a day after an attack on a hospital which killed at least 38 people in the east of the country.
Dozens were injured. Elderly people, pregnant women and children were said to be among the casualties.
'No respect'
A statement by the ministry described the Uruzgan incident as a "crime and a shameful act".
The area where the alleged incident happened is very remote, and it was not possible to independently verify the reports.
"The child, pure-hearted and in good faith, took the bag and moved towards the police vehicle," it said.
"As she got close to the police vehicle, the enemy detonated the bomb by remote control, killing the innocent child."
The governor of Char Cheno district, where the attack took place, told the BBC the girl was from the nearest village.
She was told nothing would happen to her, he said, adding that the perpetrators had "no boundary, no respect for anything".
Correspondents say insurgents have recruited both adult women and recently male children to carry out suicide attacks, though the Taliban denies recruiting children.