Afghanistan: Logar hospital blast victims buried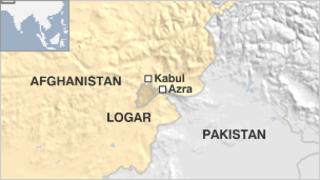 Funerals of victims of a car bombing at a hospital in Afghanistan's eastern Logar province have been taking place.
Thirty-eight people, including pregnant women, children, doctors and nurses, died in the attack, officials say - the deadliest on a medical facility since the fall of the Taliban in 2001.
The hospital, in Azra district, was destroyed, leaving people buried under rubble.
Officials blamed the attack on the Taliban, but the group denied it.
A Taliban spokesman said the militants did not target civilians and that "someone with an agenda" was behind the blast.
The actual death toll could be higher than the official figure, since relatives of some of those killed took the bodies away, officials said.
Azra's director of health told the BBC the clinic's chief doctor, who was injured in the attack, had resumed work on Sunday morning and was operating from a mobile clinic.
'Revenge attack'
The Taliban has denied carrying out the attack, but Afghan officials in Logar told the BBC the insurgents had warned locals not to house, feed or join the Afghan security forces.
They said they believed the Haqqani group staged the attack to take revenge, when its warnings went unheeded, says the BBC's Bilal Sarwary in Kabul.
The Afghan officials' account could not be verified independently.
The Haqqani network is closely allied to the Taliban and al-Qaeda, but operates independently.
An intelligence official said the hospital may not have been the intended target, because the suicide bomber detonated the device as police tried to stop his car.
A large number of people had been gathering at the clinic for weekly treatment, many of them women, children and elderly people, said provincial official Din Mohammad Darwaish.
A man who lives near the hospital, Abdul Rahman, told AFP news agency he lost seven relatives in the blast.
"I was at home, then I heard a big explosion," he said. "When I rushed to the site, I saw many dead and injured people.
"Many of them were burning, on fire. There were body parts everywhere."
A statement by the public health ministry, quoted by AFP, said: "This inhumane act is unprecedented in the history of the conflict in our country and targeted a place where wounds are healed and patients receive treatment."
Our correspondent says there is almost no central government control over Azra, which is close to the Pakistan border, and insurgents and smugglers are well-established there.
There has never been an attack on a hospital in Afghanistan on this scale, he adds, although last month a suicide bomber attacked the main military hospital in Kabul, killing six people.