Afghanistan: The next chapter for Taliban talks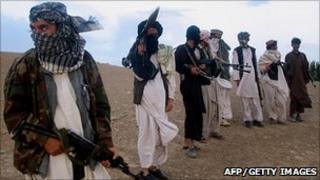 Now that President Obama has made it clear he wants to draw down the US troop surge in Afghanistan, there is growing emphasis on political and diplomatic efforts to try to bring an end to the war.
In his speech setting out plans to bring home 33,000 US troops over the next year, the president emphasised: "We do know that peace cannot come to a land that has known so much war, without a political settlement."
That means a "political settlement" with the Taliban.
One senior official said that phrase would have been "unthinkable" a year ago.
Just hours after President Obama spoke, Hillary Clinton spoke in a US Senate hearing of a "diplomatic surge to support Afghan-led efforts to reach a political solution to chart a more secure future."
"There's an urge for a surge," quipped one Western official.
"I evaluate progress by comparing where we were last year at this time," said one source who has worked on reconciliation efforts for several years. "The job is done," he declared. "The Americans and the Taliban are now talking face-to-face."
But one Western official cautioned that talks, while "remarkable," were still so exploratory it was not possible to describe it as a "real channel" - in other words a credible and confirmed means of dialogue.
Last month, American and European media made public the reports that at least three sets of direct talks have taken place between US officials and a senior Taliban representative, Tayeb Agha.
Tayeb Agha is said to head the political committee of the Taliban leadership council. He worked closely with Mullah Omar for many years and is related to him by marriage.
But no-one has forgotten last year's much-mocked mistake of talking to an intermediary who was later derided as a "Quetta shopkeeper."
Wasted time
There is also concern that this very clear signal that US-led Nato forces are on their way out of Afghanistan will lead Taliban and other armed groups to simply bide their time until they can make more gains on the ground once foreign forces leave.
And there are no illusions about how long it will take to move from this first small breakthrough to something more substantive; real discussion on hard issues regarding the shape of a final political settlement.
But these latest meetings highlight what has long been accepted as an important first step in this process; direct contacts between the Taliban and the most powerful player, the United States.
As one observer put it: "The Taliban want to talk to the people who are hammering them."
European diplomats, who have long called for negotiations, welcomed President Obama's clear, if belated, emphasis on a political settlement, despite what are known to be continuing reservations among his senior military.
"We've wasted a lot of time," said one European diplomat, with barely concealed anger.
More broadly, the mantra continues to be that this process must be, "Afghan led." But with the American effort now appearing to have the most traction, another new phrase is now surfacing - "Afghan blessed."
Shrouded in secrecy
But President Karzai, who often expresses suspicion of American plans for his country, appeared to distance himself from the US engagement at a recent press conference, when he confirmed that talks were taking place without mentioning his own government's efforts.
One of his senior aides told me his remarks surprised and angered his own officials involved in contacts with the Taliban
An important next step will be the establishment of an "address," an office outside the region, which would be regarded as safe ground for the Taliban to take part in any talks.
As the process seems to inch slowly forward, there is a recognition of the need for one voice on every level; Taliban leadership, the international community, and Afghans. On each level there are big, if not growing, question marks.
Afghan officials involved in this process have raised concern about the multiplication of outside channels, with many Western and Muslim nations now vying to play a leading role in reaching out to the Taliban.
On the Taliban side, the crucial question about any senior figure who reaches out is: "Has Mullah Omar given his approval?"
It is often exceedingly difficult to answer that question, since his whereabouts continue to be shrouded in secrecy - all the more so since the killing of Osama bin Laden in a covert US raid.
Explosive fault lines
Former Taliban officials living in Kabul, described as the "reconciled Taliban", have long insisted the Taliban remain a unified movement and Mullah Omar is the "Amir ul Momineen", the spiritual leader and sole source of legitimacy.
But months of intensified US air raids and targeted killings have led to the death of hundreds of mid-level commanders, who have reportedly been replaced by younger, more extreme Taliban.
They owe little allegiance to the traditional leadership structure.
And for all the focus on talks between outside parties and the Taliban, there is heightened concern about the growing tensions among Afghans over this process.
Opposition leaders, mainly non-Pashtun northerners, have been speaking out and organizing unprecedented protests.
Other major factors, which impinge on a still fragile process, include Pakistan's ambitions and actions vis-a-vis the Taliban, and other armed commanders known to be operating from its territory.
This is a process with many explosive fault lines. And if negotiation is about confidence-building measures, they are badly needed on every single front.