India and Pakistan in nuclear confidence-building vow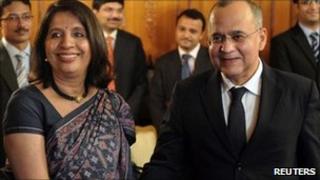 Senior diplomats from India and Pakistan have agreed to discuss new nuclear confidence building measures, after two days of talks.
The talks in Islamabad between the countries' foreign secretaries are a prelude to the Pakistani foreign minister's visit to India in July.
Relations plummeted after Pakistan-based militants attacked the Indian city of Mumbai (Bombay) in 2008.
But earlier this year, leaders vowed to resume their dialogue.
India and Pakistan will work to build confidence over their nuclear and conventional weapons capability, a joint statement said.
It also said that a meeting of experts would be held "to consider additional measures... to build trust and confidence and promote peace and security."
Any concrete agreements will be made when the foreign ministers meet in July but it is now clear what is on the agenda for that encounter, the BBC's Mark Dummett in Delhi says.
India and Pakistan have also agreed to look at ways of strengthening cooperation on counter-terrorism and improving ties between the two halves of Kashmir.
Kashmir is claimed by both India and Pakistan in its entirety but has been divided since 1948. It has been the cause of two wars between the countries.
There remains a huge amount of mistrust between the nations, but for now it seems both governments appear committed to improving relations, our correspondent says.
Cricket diplomacy
Relations between the nuclear-armed rivals have been slowly improving in recent months, although talks ended in acrimony last July, with the two sides indulging in a public spat over Kashmir.
These are the first talks between the two countries since March, when Indian Prime Minister Manmohan Singh hosted his Pakistani counterpart Yousuf Raza Gilani for the cricket World Cup semi-final in the Indian city of Mohali.
At the time Mr Singh said cricket had been a "uniting factor" and that the sides should cast aside "ancient animosities".
India put peace talks on hold after the Mumbai attacks of 2008 when gunmen killed 166 people in an attack on India's commercial capital.
After initial denials, Pakistan acknowledged that the attacks had been partially planned on its territory and that the only gunman captured alive was one of its citizens.
Despite charging seven people in connection with the attacks, the Pakistani authorities have yet to convict anyone.