India 'mystery illness' kills 28 children in Bihar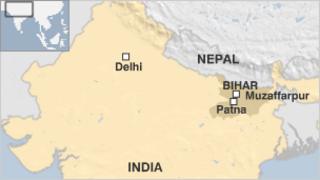 At least 28 children in India's Bihar state have died in the past week from an unidentified illness, officials say.
Officials said that all of the children were between two and eight years. They died in Muzaffarpur town, 80kms (50 miles) from the state capital, Patna.
Bihar Health Minister Ashwani Choubey told the BBC that a team of doctors from Delhi is visiting Muzaffarpur on Tuesday to diagnose the disease.
Local doctors say the symptoms are similar to Japanese encephalitis.
But, they say, an important symptom of Japanese encephalitis is a stiffening of the neck, which is absent from the Bihar cases.
On Sunday, Bihar Chief Minister Nitish Kumar told reporters that the disease had not been identified yet.
"Without identifying the disease how can we say what is killing the children there? The local doctors are giving treatment only on the basis of symptoms," he said.
Officials said blood samples of some of the ill children have been sent to the National Institute of Virology in Pune and National Institute of Communicable Diseases in Delhi for test and identification.
Meanwhile, local TV channels say a number of sick children are being admitted to hospitals across northern Bihar.