Indian girl raped and murdered in Uttar Pradesh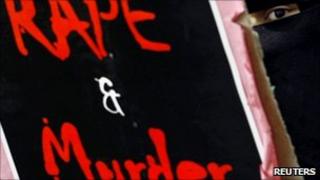 A 12-year-old girl has been raped and killed in India's Uttar Pradesh state, police say, the latest in a series of brutal attacks on women there.
Her body was found in sugarcane fields, police said. She was gagged and had blood stains on her clothes.
This is the fifth violent attack on women and girls in the state in a week.
Correspondents say Uttar Pradesh is one of India's most lawless states and that women here are accorded a very low status.
Earlier this year, the head of the National Commission for Women, Girija Vyas, said Uttar Pradesh was at the top of the list when it came to violent crimes against women.
Officials, however, say they are trying their best to deal with the spurt in crime.
The latest attack took place in Gajna village in Sitapur district, not far from the state capital, Lucknow, on Monday.
The girl's father Sarfuddin told the police that she had gone to attend classes in a local madrassa (Islamic religious school) with her younger brother, the BBC's Ram Dutt Tripathi reports from Lucknow.
On the way back, it began to rain and the children got separated.
When the girl did not return home for some time, the family began a search and found her body in the sugarcane fields, our correspondent says.
Uttar Pradesh has been hit by a series of violent crimes against women in the past few days.
On Sunday night a woman was gang raped and burnt alive by five men in her own home in Etah district.
Her family say the attackers sprinkled kerosene on her and set her on fire because the woman had recognised them and they were afraid of being caught.
The woman managed to give a statement to police but died shortly afterwards.
On Saturday, a woman was raped at gun-point in Basti district, police said.
And on Friday a 14-year-old girl was stabbed in the eye as she fought off two men who attempted to rape her.
Last week, a girl's body was found hanging from a tree on police premises in the Nighasan area of Lakhimpur district.
The girl's parents alleged that she was raped and murdered and that the police had offered them a bribe to keep quiet.