Pakistani schoolgirl 'kidnapped for suicide attack'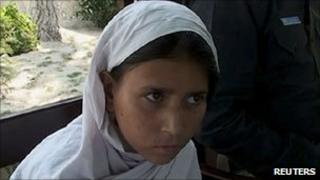 A nine-year-old girl in Pakistan has said that she was taken and forced to wear an explosive vest in what police say was a planned militant attack.
Sohana Jawed was abducted several days ago from her home in Peshawar and taken to an area near the Afghan border, according to police in Lower Dir.
Sohana told a press conference there that she was put in a suicide vest and told to stand near some soldiers, but she threw the vest off and ran away.
Suicide attacks by girls are rare.
But militants in Pakistan have often recruited young boys to carry out suicide attacks.
Sohana told her story at a press conference organisd by police in Lower Dir on Monday.
But the authorities in Peshawar say they have not received a complaint of a missing girl and have not identified a resident with her name, the Associated Press news agency reports.
'Unconscious'
Sohana said that she was kidnapped by two women while on her way to school and forced into a car carrying two men.
One of the kidnappers put a handkerchief over her mouth and she became unconscious, she said.
When she woke up and started crying, one of the women gave her some biscuits, she said. She said she became unconscious again after consuming the biscuits.
Sohana said when she woke up next she found herself in a house.
" In the evening they gave me bisuits, and then put me to sleep again. When I came to in the morning, they put this this thing on me which wouldn't explode," she said.
Police official Salim Marwat said the vest contained 9kg (20 pounds) of explosives, the AP news agency reports.
"Most likely it had to be detonated through a remote control since a minor was wearing it," he is quoted as saying.
The kidnappers appear to have brought her to a paramilitary checkpoint outside Timergarah, the main town in Lower Dir.
She said that she then started shouting as she approached the checkpoint and threw the vest away.
"I got the chance to release my hand from the woman and run," Sohana said.
Police say they have launched an operation to search the kidnappers who escaped.