Indian politicians place disagreements 'before god'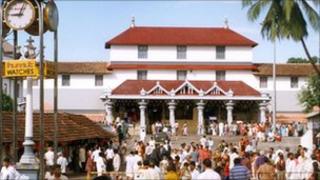 Two arch political rivals in the Indian state of Karnataka have decided to resolve their political differences before a Hindu god.
The state chief minister and his opposition rival - a former chief minister - agree that a divine showdown will resolve their dispute.
On 27 June they are due to present their arguments in a temple dedicated to the Hindu god Manjunatha.
He is the deity who arbitrates on land and property disputes.
The BBC's Habib Beary in the state capital Bangalore says that Manjunatha will seldom have been called on to adjudicate between two such high-profile litigants.
Chief Minister BS Yeddyurappa has been accused by opposition leader HD Kumaraswamy of corruption.
Mr Kumaraswamy has threatened to expose land scams allegedly committed by Mr Yeddyurappa, in addition to accusing the chief minister of trying to "buy" his silence on the matter through intermediaries.
In reply, Mr Yeddyurappa has rubbished the allegations as "humbug", and has challenged his rival to stand before Lord Manjunatha and repeat his charge. Mr Kumaraswamy has accepted the challenge.
The former chief minister is so convinced as to the strength of his case that he has declared his willingness not only to testify before God but also before an inquiry.
"I am even prepared to undergo the truth serum test," Mr Kumaraswamy said.
Childish
In an open letter to his opposition rival, the chief minister said: "I believe in God. I hope you are also a believer in God. Therefore I am throwing you a challenge... If you have the courage to stick to your allegations in front of the Almighty, I will appreciate your courage."
However the chief minister's party colleagues are unhappy over the oath challenge.
Karnataka Health Minister Sreeramalu said that God should not have to arbitrate in the state's political disputes.
"Such actions would only affect the religious sentiments of people," he said.
A senior Congress leader, Motamma has also described the oath challenge as childish.
"The chief minister has lowered the image of the high office he holds," she said.