India bars cricketers from Sri Lanka Premier League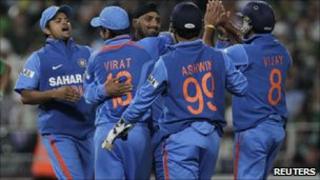 A row has broken out between cricket authorities in India and Sri Lanka over a Sri Lanka Premier League Twenty-20 tournament starting next month.
The Indian cricket board has refused to let 12 players take part because it says the tournament is run by a private company.
Sri Lankan cricket officials deny this.
Earlier this year India refused to let Sri Lankan players leave a similar tournament in India early to prepare for the current tour of England.
Reports say that initially India's cricket board had said it had no problems with its players participating in the inaugural Sri Lanka Premier League (SLPL) to be played between 19 July and 4 August in Colombo as long as it did not clash with the players' domestic or international schedule.
But the board announced on Saturday that it would not allow its players to participate in the tournament because it was "being organised by a private party".
Indians 'add value'
Sri Lanka cricket official Nishanta Ranatunga told Espncricinfo that the Twenty-20 tournament had been approved by the Sri Lankan cricket board.
A Singapore-based company owns the commercial rights of the tournament, having "won it through a tender process", he said.
Mr Ranatunga said the Sri Lanka board was "surprised and hurt" by India's decision, and would meet on Monday to look at ways to tackle the situation.
"We need to explain the matter to the Indian board and whatever concerns that they have, we need to give them an explanation. It is very important to have them [Indian players] as they add a lot of value and glamour to the tournament."
Praveen Kumar, Munaf Patel, Irfan Pathan, Dinesh Karthik, R Ashwin and Ravindra Jadeja are reportedly among the 12 Indian players who had shown interest in turning up for the tournament.
A number of international players - including Chris Gayle, Kieron Pollard, Shahid Afridi, Daniel Vettori, Kevin O'Brien and Herschelle Gibbs - will be playing in the Twenty20 tournament.
In April Sri Lanka's Sports Minister Mahindananda Aluthgamage ordered the players to return from the Indian Premier League to prepare for the tour of England.
But he later backtracked, saying his predecessor Gamini Lokuge had made a 10-year-deal allowing the country's cricketers to play in the Indian Premier League. Mr Lokuge denied the claims.
The delay meant some of Sri Lanka's biggest stars arrived in England with just a few days to prepare before the first Test match.