Afghan suicide blast kills Kunduz civilians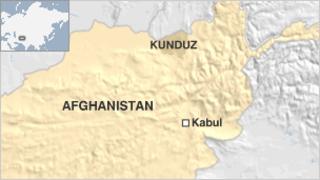 Three civilians have been killed and 11 others wounded in a suicide car bomb attack on a German military convoy in northern Afghanistan, interior ministry officials say.
Reports said the bomber detonated his vehicle on a busy road near Kunduz city. The Taliban said they carried out the attack.
A spokesman for the Nato-led forces said there were no military casualties.
Violence in the area has escalated in recent months.
Sunday's attack came a day after suicide bombers killed nine people in the capital, Kabul. On Saturday President Hamid Karzai confirmed that foreign forces were involved in preliminary peace talks with the Taliban.
Earlier this month three policemen died after a suicide bomber blew himself up near a mosque in Kunduz.
Kunduz province was once a relatively quiet part of the country but has become more unstable in recent months.
Afghanistan has seen a series of attacks in recent months by militants on police and military targets.