Pakistan: Militant attack on anti-Taliban elders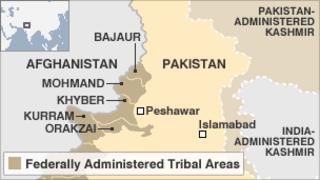 Dozens of militants have attacked the homes of two prominent anti-Taliban tribal elders close to the Afghan border, officials say.
At least four were killed and four others, including one of the elders, injured in the tribal area of Mohmand.
Meanwhile, two US drone strikes killed at least six suspected militants in Kurram agency, further along the volatile border, officials say.
Analysts say militants fleeing army offensives have a presence in the area.
The tribal district of Kurram is an area rarely targeted by drone missiles, with some officials saying this is only the third such attack in the region. Other stretches of the border, notably the militant stronghold of Waziristan, have been targeted on scores of occasions in recent years.
Elders attacked
The raid on the homes of anti-Taliban elders happened in the Ziarat Masood village of Mohmand district, another area where the Taliban have been attempting to establish themselves.
A group of militants stormed the village and attacked the houses of Malik Ghazi Khan and Malikh Ghulab Khan, members of a local peace committee, which oppose the Taliban, a local official told the AFP news agency.
There have been frequent military operations in the area in an effort to combat the insurgents infiltrating the district. Establishing "peace committees", tribal groups opposed to insurgents, is a key part of the security strategy, correspondents say.
The attack comes just one day after Pakistani war planes bombed a militant stronghold in the region and also launched ground attacks against insurgents there.
Four soldiers and 20 militants were killed in the clashes, officials say, adding that Sunday's assault was a response to the latest attack by the Taliban on checkpoints in north-western Pakistan. A Taliban spokesman said 19 security personnel had been killed.
Cross-border incursions
In recent weeks there have been a number of cross-border militant attacks in the north-west. Pakistan has lodged official protests with Afghanistan over the incursions.
Afghanistan and Nato have long complained that Pakistan could do more to curb militant raids launched from its soil.
Last week more than 200 militants, armed with mortars, rockets and machine guns, stormed a Pakistani village in Bajaur tribal region, wounding at least two women.
A similar attack earlier this month in Pakistan's Upper Dir area led to a prolonged clash and left at least 25 Pakistani troops dead.
Securing the long, porous border that divides Pakistan and Afghanistan has been a major challenge for the two countries as they try to battle insurgents, correspondents say.
Many of the various militant groups along the frontier are closely linked.