UN splits Taliban and al-Qaeda on sanctions blacklist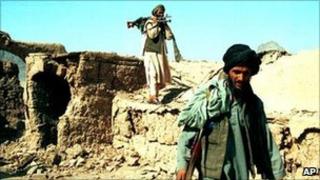 The UN has split a sanctions blacklist for the Taliban and al-Qaeda to encourage the Taliban to join reconciliation efforts in Afghanistan.
Until now, both organisations have been handled by the same UN sanctions committee.
The UN Security Council says it is sending a signal to the Taliban that now is the time to join the political process.
Diplomats say the move recognises that the two groups have different goals.
Al-Qaeda is seeking worldwide jihad (holy war) while the Taliban are involved in an insurgency focused in Afghanistan.
The council unanimously passed two resolutions - one to set up a new blacklist of individuals and groups accused of links to al-Qaeda and a second for those linked to the Taliban militia.
The US Ambassador to the UN, Susan Rice, said in a statement that the move sent "a clear message to the Taliban that there is a future for those who separate from al-Qaeda, renounce violence and abide by the Afghan constitution".
There are currently 138 Taliban and 253 al-Qaeda names on what will now be two separate UN blacklists.
Afghan plea
The UN has been asked by Kabul to remove about 20 former Taliban figures from the list.
It originally asked for 50 names to be considered, but withdrew many because paperwork to back up their cases was not available.
Senior aides to President Karzai told the BBC's Bilal Sarwary that the names given to the US and UK governments were of people "who live in Kabul under the protection of the Afghan government, the UN and NATO".
"These people work with us and go with us on trips," they said.
Other names included some Taliban members both in Afghanistan and in detention at the Guantanamo facility in Cuba, the aides told our correspondent.
The sanctions committee is due to debate the remaining cases in mid-July.
Earlier this month, US Defence Secretary Robert Gates said there could be political talks with the Taliban by the end of this year.
Washington is due to start withdrawing its 97,000 troops from Afghanistan next month as it gradually hands over all security operations to Afghan security forces by 2014.
The Taliban ruled Afghanistan before being driven from power by US-backed forces in 2001. It had sheltered al-Qaeda and its leader Osama Bin Laden.