Sister visits condemned Indian Sarabjit in Lahore jail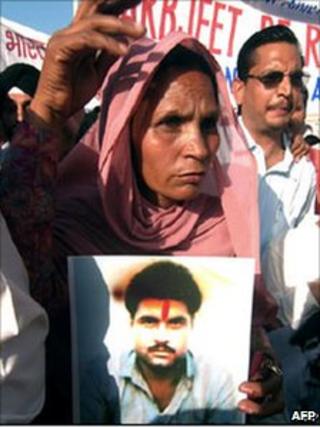 The family of an Indian man on death row in Pakistan has made a rare visit to him in jail.
His sister Dalbir Kaur was granted permission by the Lahore High Court to meet him in Kot Lakhpat jail.
It is only the second time he has been allowed a visit. Sarabjit Singh has been in prison for 21 years.
He was convicted of spying and carrying out four bomb attacks that killed 14 people in the Pakistani cities of Lahore and Faisalabad in 1990.
Singh denies the charge, arguing that he is a poor farmer and the victim of mistaken identity, who strayed drunk from his border village into Pakistan.
'Wept'
"I met him in his tiny cell in jail. The meeting went on for 90 minutes. It was a very good meeting," Ms Kaur told the BBC on the phone from Lahore.
She said that Singh inquired about his wife, his two daughters, neighbours and relatives. The two also exchanged presents.
"When I tied a rakhi [a protective thread Hindu women in India tie on their brothers' wrists during the annual Raksha Bandhan festival], he wept. As a return gift, he gave me a bangle which he had made in jail," she said.
Ms Kaur said she was worried to hear that "he remains tense all the time".
"I promised him that we will get him out soon," she said.
Ms Kaur was accompanied by Singh's lawyer Awaish Sheikh who said his client has appealed to the president of Pakistan to pardon him or commute his sentence to a life term.
The family has expressed their sorrow that only Ms Kaur was allowed to visit him.
"We could not all get a visa... so we are upset that his daughters and wife could not meet him," said Swapan Deep, Mr Singh's eldest daughter.
"But we are happy that at least one member of the family could meet him... we are missing him and hope that the time will soon come when our father will be here in India with us and there will be no need to apply for visas [in order] to meet him.
A life sentence is generally for 14 years which means that, if his sentence is commuted, Singh will be released immediately.
Singh has also appealed to the chief justice of the Supreme Court to reopen the case to clear his name.
Pakistani officials say that Sarabjit Singh is actually Manjit Singh, who was arrested while trying to slip back into India.
Manjit Singh was found guilty of spying and carrying out the four bombings.
Two years ago, British lawyer Jas Uppal set up a website - www.freesarabjitsingh.com - to highlight his plight.
She has been lobbying human rights groups and lawyers around the world, asking them to intervene.
The Indian government has repeatedly asked Pakistan for him to be pardoned on humanitarian grounds.
His hanging was most recently postponed in 2009 after Pakistani Prime Minister Yousuf Raza Gilani intervened.
In 2008, former Pakistani President Pervez Musharraf rejected his mercy petition and signed his death warrant.