Call to delay UK Tamil deportations to Sri Lanka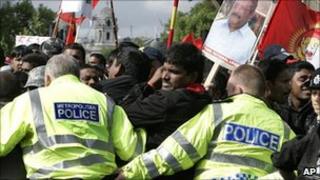 Human rights groups have urged the UK not to deport about 40 Tamils to Sri Lanka, warning that they face the risk of being tortured.
Amnesty International says that at least one of the failed asylum seekers tried to commit suicide on Wednesday night at an airport detention facility.
The fate of the Tamils is currently unclear. Some are reported to have had their deportations deferred.
Others, however, are reported to be heading to the airport for departure.
Amnesty argues that the British government has a responsibility under international law to protect people at risk of torture.
Human Rights Watch also called for a postponement, saying government critics were often targeted in Sri Lanka.
The Tamils affected told the BBC on Wednesday that their lives are in danger.
Media reports say that they will be deported from the UK on a chartered flight due to leave London on Thursday.
The UK Foreign Office pressed Sri Lanka on Wednesday to investigate alleged atrocities during its civil war against Tamil rebels.
Britain's Channel 4 showed what it said were extrajudicial killings of Tamils.
Sri Lanka's defence ministry dismissed the videos as fabricated, saying they were intended to discredit the army.
The army defeated the Tamil Tigers in 2009, ending 25 years of war.
'Endemic torture'
"Nobody should be deported from the UK if they are at risk of torture. The end of the armed conflict in Sri Lanka in May 2009 has not diminished the risks faced by failed Sri Lankan asylum seekers, who continue to be subjected to arrest and detention upon their arrival in Sri Lanka," said Yolanda Foster, Sri Lanka Researcher at Amnesty International.
"We are aware of cases of returned asylum seekers being tortured."
Amnesty says that the failed suicide bid took place on Wednesday night at an airport detention facility, following threats he reportedly received on the telephone that he would be killed once he returned to Sri Lanka.
The human rights organisation says that it has "documented the endemic use of torture in Sri Lanka and a culture of impunity prevails".
British immigration authorities have refused to comment on reports of the deportations in detail.
However Immigration Minister Damian Green said on Thursday that the UK "takes its international responsibilities seriously and considers each claim for asylum on its individual merits".
"If an applicant demonstrates a need for international protection they will be granted it," he said.
The issue was also raised in parliament on Thursday.
Labour MP Siobhain McDonagh said that two of the Tamils concerned were her constituents. One, who she named as Jenach Gopinath, was formerly employed by a leading Tamil MP who has subsequently been arrested and detained by the Sri Lankan authorities.
"They are desperate and understandably so," she said.
She said that the Tamil who allegedly tried to commit suicide did so with a prison duvet and had to go to hospital.
He is believed to be a 30-year-old man who served with the Tamil Tigers. The man told the BBC's Tamil service on Wednesday that his life would be in jeopardy if he was sent back.
The man has now been deemed by immigration authorities to be fit to travel to Sri Lanka, despite his injuries.
One elderly woman is also among those who were asked to pack their bags.
Human rights groups have warned that many could suffer reprisals in Sri Lanka.
Brad Adams, South Asia director of Human Rights Watch, said: "We urge the British government to hold off sending people who could face persecution on return.
"People who are critical of the Sri Lankan government are now often targeted."