Plea for Indian condemned for Malaysia drug smuggling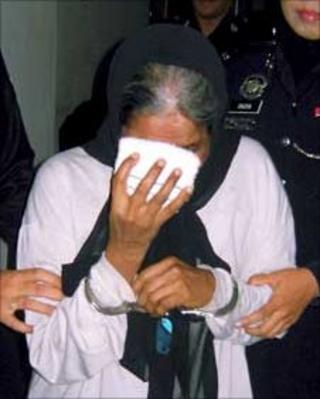 The family of a 64-year-old Indian woman sentenced to death for drug trafficking in Malaysia has appealed to the Indian government to help save her.
They say that Fazila Bee Abdul Kareem from Madras was tricked into taking the drugs to Malaysia by a corrupt employment agent in India.
She was convicted in May for trying to smuggle 2.9kg of the drug ketamine.
Ketamine is a hallucinogenic drug, used as an anaesthetic in medicine, which is often abused in the US and Europe.
Ms Kareem's family says that she went to Malaysia as a widow in search of work because she was short of cash after paying for the wedding of the last of her four daughters.
They say that because she had previously worked as a maid in the Gulf, her employment agent assured her of a similar job in Malaysia. She sold all her belongings to pay for the flight in February 2009.
At Madras airport the family say that she was handed a suitcase by the agent which she did not know contained the drugs.
The family have now reportedly approached the Tamil Nadu chief minister and the Madras city police commissioner and asked them to take measures to help her.
However the court in Malaysia described her defence as "ridiculous", pointing out that she entered the country on a tourist visa.
"If she want[ed] to work, she would have known where the work place was, the employer's name and would have had a work permit," the judge was quoted by the Borneo Post as saying.
"She also claims to be 64, but looking at her, she is older and it is unlikely there is someone who wants to employ her as a domestic maid.
"Her testimony is full of contradictions, not consistent, more of a fiction and an afterthought."