Pakistan arrests CIA informants in Bin Laden raid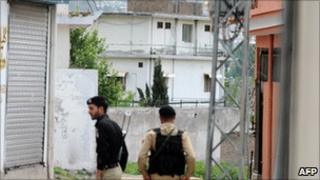 Pakistan has arrested five alleged CIA informants who helped the US plan the raid that killed al-Qaeda leader Osama Bin Laden in northern Pakistan in May.
Among those held by the Pakistani intelligence agency, the ISI, was the owner of a safe house rented to the CIA to watch Bin Laden's compound in Abbottabad, the New York Times wrote.
The Bin Laden raid strained ties between the US and Pakistan.
US President Barack Obama said "someone" was protecting Bin Laden.
And US Secretary of State Hillary Clinton said on a recent visit to Pakistan that there was "absolutely no evidence that anyone at the highest level of the Pakistani government" knew where Bin Laden was.
Pakistan has denied knowing Bin Laden's whereabouts and denied claims that a Pakistani army major was among those arrested.
'Interrogated'
In Pakistan, Inter Services Public Relations spokesman Brigadier Azmat Ali told the BBC no Pakistani soldier had been arrested, but the agency was questioning "several people whom we suspect of having been working for American intelligence services".
Another military official confirmed this and said that among those arrested were people "captured during a raid at a house located close to the Bin Laden compound".
"We suspect them of having been working for CIA," he said.
"Others being interrogated include people who used to visit the compound."
Military officials said that two categories of people were among those arrested - those who threw flares into the Bin Laden compound to guide approaching US helicopters and those who helped the helicopters refuel within Pakistani territory.
In Washington, US Defence Secretary Robert Gates was asked indirectly about the arrests during a Senate hearing.
"Do they [foreign governments] also arrest the people that help us, when they say they're allies?" Senator Patrick Leahy asked.
"Sometimes," Me Gates replied, adding, "and sometimes they send people to spy on us, and they're our close allies. That's the real world that we deal with."
Bin Laden courier
In the wake of Bin Laden's death many American agents have been forced to leave Pakistan, while Pakistani officials and civilians suspected of helping the CIA may soon appear in court.
The BBC's M Ilyas Khan in Islamabad says dozens of people have been arrested and released by the security agencies since the death of the al-Qaeda leader - and at least five of them have not yet been released.
Our correspondent says that the Pakistani authorities appear to be making every effort to unearth CIA informants while showing little interest in arresting Taliban and al-Qaeda sympathisers.
Soon after the killing on 2 May, witnesses told the BBC that two brothers - both cousins of Bin Laden's courier - were picked up from their village in the north-western Shangla district.
A member of the security forces was also picked up from the Ilyasi Masjid area near the Bin Laden compound in Abbottabad, according to witnesses. It is not known whether he belonged to the intelligence wing of the police or the army. He remains unaccounted for to date.
The contractor who built the Bin Laden compound, Noor Mohammad alias Gul Madah, a property dealer identified by witnesses as Kaleem, Bin Laden's neighbour Shamrez and his father Zain Mohammad were arrested in the weeks following the killing.
All of them - apart from Kaleem - were later released although they have subsequently gone missing, our correspondent adds.
It is not clear whether these men were among the alleged CIA informants arrested.
The New York Times said those held included a major believed to have logged the number plates of cars visiting Bin Laden's compound in the weeks before the raid.
The US has sharply reduced its troop presence in Pakistan at Islamabad's request.
Washington has provided Pakistan with billions of dollars of aid in recent years, much of it military assistance.
Islamabad has also been angered by US drone raids on tribal regions bordering Afghanistan in which civilians, as well as militants, have been killed.