Karachi officials 'removed' after death of unarmed man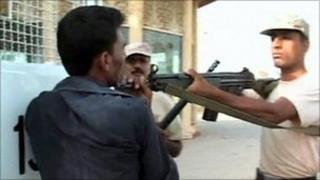 Two top officials in the Pakistani province of Sindh have been transferred following the killing of a man by paramilitary soldiers, officials say.
The move follows a Supreme Court order that they be removed from their posts within three days.
The killing of the unarmed man was filmed by a TV cameraman and widely broadcast by Pakistani channels.
At least five soldiers and a civilian have been arrested for their alleged involvement in the killing.
They face murder and terrorism charges.
The video of the killing attracted criticism of the Pakistani army which is already under fire from the public for the recent killing of a journalist, Saleem Shahzad.
Journalists, politicians and rights activists have accused the army's intelligence service, the ISI, of the murder, a charge which the ISI denies.
The military is also being criticised for failures over the 2 May operation by US commandos in which Osama Bin Laden was killed on Pakistani territory.
'Posted out'
On Friday, the Supreme Court took up the case of the killing of the unarmed man, Sarfaraz Shah, by Rangers in Karachi.
It ordered the government to remove Sindh police Inspector-General Fayaz Leghari as well as the Director-General of the Sindh branch of the Pakistan Rangers, Major-General Ijaz Chaudhry, within three days.
Both officials have now been "posted out", official statements by the army and the interior ministry said on Tuesday.
The BBC's M Ilyas Khan in Islamabad says there is no indication that this action means that they have or will be suspended from service or indeed that they will face any other punishment.
Video footage showed Sarfaraz Shah, wearing a black T-shirt, being dragged by his hair in a public park by a man in plain clothes.
He is pushed towards a group of six Sindh Rangers who are in uniform and armed. The young man, who does not appear to be armed, pleads for his life as one of the Rangers points a gun at his neck.
A little later, a Ranger shoots him twice at close range, hitting him in the thigh. The young man is seen writhing on the ground, bleeding heavily and begging for help.
The paramilitaries remain close to the injured man but do nothing to help him. He died from his injuries.
The Rangers say the young man was caught trying to rob someone. His family denies this.
The incident has sparked an outcry, with some politicians calling for the Rangers involved to be prosecuted.
An inquiry is also under way into the killing of five unarmed Chechens, among them a pregnant woman, last month by security forces in the western city of Quetta.