First India-Sri Lanka passenger ferry for 30 years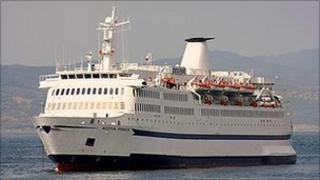 India and Sri Lanka have resumed ferry services after a gap of almost 30 years caused by the island's civil war.
An Indian passenger vessel carrying VIPs and several hundred others arrived in Colombo from the southern port of Tuticorin on Tuesday morning. It will leave for home later in the day.
The Scotia Prince will travel twice a week each way. A Sri Lankan vessel will soon ply the same route.
Ferries were suspended during the war with Tamil rebels, which ended in 2009.
The BBC's Charles Haviland in Colombo says stringent security measures had been taken to regulate the list of passengers on the Scotia Prince.
There is still much mistrust between Sinhalese-dominated Sri Lanka and the Tamil-dominated Indian state of Tamil Nadu, our correspondent says.
'Coming together'
Indian passengers disembarking told the BBC they were very pleased to be using the new service.
One 28-year-old man said he had come on a day trip to see Sri Lanka for the first time. Another man was making his 10th visit, but said he found sailing much more convenient than flying.
Businessman V Velmurugam told the BBC: "You see the people from India? They started hating Sri Lankans because of this war.
"Now I think it's coming together. I can see that. This ferry I think will be the start of a good new relationship."
Another Indian Tamil man said he had never been to Sri Lanka but wanted to look at the historical links between his people and those on the island.
The Scotia Prince is a cruise vessel registered in the Bahamas but now chartered by an Indian company, Flemingo, which also owns a chain of duty-free shops.
It can carry more than 1,000 people and offers restaurants, bars and a casino.
Another boat, to start operating soon, is run by Sri Lanka's state-owned Ceylon Shipping Corporation.
"There will be an entertainment crowd we are trying to attract", said corporation spokesman Prasad Galhena, as well as "suitcase-carriers" - small-scale businessmen from India as well as from Sri Lanka.
Tuticorin to Colombo is an entirely new route.
The old ferry service inked the Indian temple town of Rameshwaram to Mannar, a part of northern Sri Lanka heavily affected by the war.
Officials say the ferries will be considerably cheaper than the planes that link Colombo with southern India - meaning less affluent people from both countries can now cross.
The ferry is resuming at a time of sour relations between Sri Lanka and authorities in Tamil Nadu.
Its state assembly is calling for economic sanctions against Sri Lanka over what it says is the island's mistreatment of its ethnic Tamil minority.
Newly-elected Chief Minister J Jayalalitha wants the ferry service suspended and state officials did not attend the waving off of the Scotia Prince.
In a letter to Indian Prime Minister Manmohan Singh, Ms Jayalalitha said resuming the crossings was "against the sentiments of the people of Tamil Nadu".