Afghanistan: Death penalty for Jalalabad bank massacre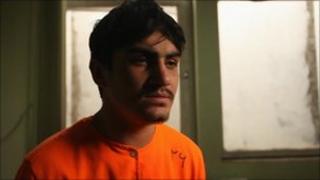 A gunman who shot dead 42 Afghans in a bank in the eastern city of Jalalabad in February has been sentenced to death, court officials said.
Zar Ajam, a Pakistani, has been given the death penalty along with his Afghan facilitator Matiullah, chief court administrator Abdul Malik Kamawi said.
The attack was one of the most brutal Taliban attacks in nearly 10 years of war in Afghanistan.
President Hamid Karzai must confirm the death sentence.
But the Afghan leader has already said Ajam should hang for his crime.
Video footage from inside the bank branch on the day of the attack showed the gunman walking in wearing a policeman's uniform.
Ajam has shown no remorse for his crime. In a recent interview with the BBC, he said he would kill others if given the chance.
Matiullah was found guilty of providing accommodation to Ajam, an official said.