Afghanistan: UN says May deadliest month for civilians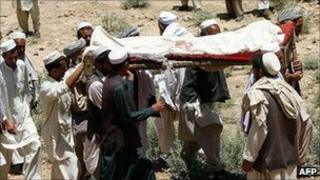 The UN says May was the deadliest month for civilians in Afghanistan since 2007, when the organisation started recording civilian casualties.
The UN said "anti-government elements" were responsible for 82% of the 368 "conflict-related civilian deaths".
"Pro-government forces", including Nato, caused 45 of the deaths.
The news came as several deadly insurgent attacks killed at least 18 people, most of them civilians, in the volatile south and east of the country.
Fifteen people, including eight children and four women, were killed when a bomb blast hit their vehicle in the southern province of Kandahar, the Interior Ministry said.
In the eastern province of Khost, a suicide bomber struck outside a police base, killing two policemen - including a commander - and a civilian, a police official said. Twelve people were wounded in the attack.
Air strikes controversy
The latest attacks came as the UN Assistance Mission in Afghanistan released its civilian casualty figures for last month.
"More civilians were killed in May than in any other month since 2007 when Unama began documenting civilian casualties," said Georgette Gagnon, Unama's director of human rights.
"We are very concerned that civilian suffering will increase even more over the summer fighting season which historically brings the highest numbers of civilian casualties," she said.
"Parties to the conflict must increase their efforts to protect civilians now."
The statistics reveal that insurgents were responsible for most of the casualties, but air strikes were blamed for 3% of the civilian deaths.
Nato's use of air strikes to target Taliban insurgents has angered President Hamid Karzai, who has demanded that they end.
But Nato commanders value the strikes as a useful weapon against an enemy that does not often choose to engage in open combat.
'Deadliest year'
Instead, roadside bombs - or improvised explosive devices (IEDs) - remain one of the Taliban's weapons of choice, along with suicide bombers and hit-and-run attacks on Afghan and foreign security forces.
The IEDs are intended to hit Afghan or foreign forces but frequently kill and wound civilians.
IEDs "continued to kill and injure the most Afghan civilians in May taking 119 lives and causing 274 injuries," Unama said.
"The large majority of IEDs in Afghanistan are pressure-plate devices which are indiscriminate in nature... The widespread use by anti-government elements of these weapons is a violation of international humanitarian law," the report said.
The Taliban are also increasingly turning to infiltrators dressed as Afghan soldiers or police, or actual security personnel who have turned insurgent, to attack foreign troops.
The UN has already said that 2010 was the deadliest year for civilians since the Taliban were overthrown from power in late 2001 and the Western-backed government of Hamid Karzai installed later.
The UN said 2,777 civilians were killed last year, a 15% increase over 2009.
Insurgents were blamed for about three-quarters of those killed while the UN said there was a 52% drop in civilian deaths due to air strikes compared to 2009.
There are currently some 130,000 foreign troops under US command in Afghanistan, but Washington is looking to reduce its commitment ahead of a planned transition of responsibility for security to Afghan forces by the end of 2014.