India's new face as Asia's car industry hub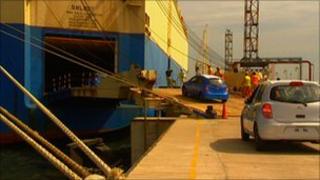 The Panama-registered M V Modern Peak steams into the newly commissioned Ennore Port, just north of Chennai on India's south-eastern coast.
It is a Korean freighter that has just arrived from Chittagong in Bangladesh, empty.
At the dock, rows of gleaming, brand new Nissan Micra cars are waiting to be loaded on board and shipped to Singapore.
"From there they'll go on to Lebanon, Israel and parts of north Africa," the ship's Korean captain says.
The cars may be a product of the Japanese giant auto maker but they are manufactured about 60kms away, at Nissan's Indian factory.
Less than a year old, the sprawling 600-acre plant is one of the company's largest worldwide.
At its high-tech assembly line, Indian workers work swiftly, putting together the latest models.
Nissan is among several major Asian companies that have set up manufacturing hubs in this area.
Rapidly growing market
A short drive down the congested highway, packed with large container trucks, and you'll pass the facilities of Hyundai, Samsung, Mitsubishi and myriad others.
"India is a rapidly growing market, so therefore it is very important for global auto manufacturers," says Nissan's managing director in India, Kiminobu Tokuyama.
But they are not just hoping to capture the local market.
They are also using India as a hub for products aimed at overseas markets.
"We are also exporting our products from India to Europe, Africa, Middle East and other places," Mr Tokyama says.
For years, it was the West that engaged with India.
The rest of Asia chose to ignore it - it was a country they did not really understand or want to do business with.
Now, because of its rapidly growing economy and increasing opportunities, India is home to sizeable numbers of Asians, especially Koreans and Japanese.
Chennai alone has close to 3,000 Koreans and Little Koreas are springing up in pockets around the city.
On a weekday evening, the brightly-lit In Seoul restaurant is packed to capacity.
Almost all patrons are Asian - though there are a few Europeans and the odd Indian - enjoying barbecued Korean meat with accompaniments.
Inside a private dining room, a large group of Koreans and Indians are seated around a table on the floor.
It is piled high with food and the alcohol is flowing.
KH Shin, who has lived in the city for eight years, is regaling them with his version of the latest Bollywood number and receives loud cheers for his efforts.
"It's not easy for us - the language, food and culture is so different from ours," he says.
"But we Koreans are trying hard to adjust. We also want to introduce Indians to our culture, food, language. That way, we can make new friends."
So apart from a few restaurants, Chennai has a couple of Korean supermarkets, a Korean church and cultural centres which offer Korean language, dance and Taekwondo classes.
Making profits
But it is not all one-way movement.
India may be known now as an information technology superpower but it has a long tradition of manufacturing.
Now they are using it to make inroads into the regional economy.
Sundram Fasteners is a 100-year-old Indian company making auto parts. It is a major supplier to global giants such as General Motors, Chrysler and Ford.
Six years ago they opened a factory in China.
"The whole idea was to develop the Chinese market. We are looking at China 25 years from now," says the company's chairman, Suresh Krishna.
"We knew initially there would be a lot of agony because people were not used to Indians coming and setting up a company.
"But it has paid off. In the last year or so we have begun making profits which is not what many other foreign companies are experiencing in China."
Since the 1990s the world has been beating a path to India but of late, its attention has turned east - there is a sense here that India's future is tied closely to Asia.
It is a powerful new relationship that could well determine the course of the global economy.