Baba Ramdev: Indian hunger strike yoga guru in hospital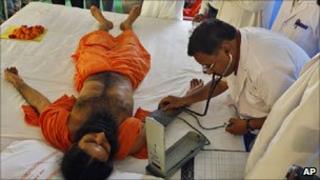 Indian yoga guru Baba Ramdev has been hospitalised after his condition deteriorated on the seventh day of his anti-corruption hunger strike.
He had continued his fast in his home city of Haridwar after the police cracked down on his hunger strike and evicted him from the capital Delhi.
The government faced nationwide protests against the crackdown.
Baba Ramdev wants the recovery of suspected bribe money allegedly held overseas.
Over 180 people have been going without food at Baba Ramdev's ashram at Haridwar, reports say.
"If his pulse rate and blood pressure continue to go down, it may put some pressure on his heart. We found that his health is deteriorating," Yogendra Chandra Sharma, a doctor who examined the yoga guru, told the Press Trust of India.
Police in Delhi broke up the guru's fast over last weekend after angry exchanges with the authorities.
The government has justified the crackdown on Baba Ramdev's hunger strike, saying he had reneged on his promises during negotiations.
Baba Ramdev's protest comes as the Congress-led Indian government is struggling with a corruption scandal surrounding the sale of mobile phone operating licences.
He has also called for the death penalty for corrupt government officials.
The yogi, whose daily TV programme is watched by millions, began his fast on Saturday after cabinet ministers failed to convince him to call it off.