Pakistan President Zardari meets Afghanistan's Karzai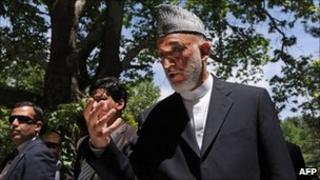 Afghan President Hamid Karzai has begun a two-day visit to Pakistan, his first trip to the country since killing of Osama Bin Laden there last month.
In a joint news conference, Mr Karzai and his Pakistani counterpart Asif Ali Zardari highlighted the strong ties between the two countries.
However they did not mention efforts to discuss a truce with the Taliban, after years of conflict in both countries.
Mr Karzai is due to meet PM Yousuf Raza Gilani on Saturday.
Strained relations
Mr Karzai travelled to Pakistan at the personal invitation of Mr Zardari. In a joint news conference after their talks, the two men stressed their eagerness to fight militants together.
"We cannot expect to have peace in the region if we don't have peace in Afghanistan," Mr Zardari said.
During his visit, Mr Karzai is expected once again to urge Taliban militants to stop their attacks and join peace negotiations.
A joint peace commission involving officials from both Afghanistan and Pakistan is also scheduled to meet.
Correspondents said the visit would test the relations between the two neighbours, following May's raid by US Navy Seals on al-Qaeda leader Osama Bin Laden's home in the Pakistani town of Abbottabad.
Several officials in Kabul have suggested that the raid showed that the war on terror would be better fought in Pakistan than in Afghanistan.
The BBC's Aleem Maqbool in Islamabad says that while the two governments agree on many issues, some in the Afghan government feel Pakistan is playing something a double game by harbouring Afghan militants.
The visit also comes as Washington is expected to announce within weeks a decision on US troops reduction this year in Afghanistan.
Last week, US Defence Secretary Robert Gates said in Kabul the Afghan authorities should take more responsibility for the country's security before a planned withdrawal of all US and other foreign combat troops by the end of 2014.