Taliban admit killing Bamiyan council head Jawad Zahak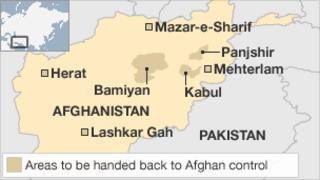 Taliban insurgents in Afghanistan have admitted killing Jawad Zahak, head of the Bamiyan province council.
Mr Zahak, an ethnic Hazara, was kidnapped on Friday while travelling with his family to the capital, Kabul.
On Monday his beheaded body was found in the mountainous Ghorband valley. The Taliban denied they had beheaded him.
President Hamid Karzai blamed "the enemies of Afghanistan" for his death. Bamiyan is one of many areas due to be handed over in July to Afghan forces.
Mr Zahak's death is one of many high-profile killings ahead of the planned transition and peace talks with the insurgents.
Afghan officials say insurgents with intelligence about Mr Zahak's movements had forced him out of his vehicle.
Soon afterwards police surrounded the insurgents and, in the ensuing gun battle, two policemen were killed.
Mr Zahak fought against the Taliban in Bamiyan and was a close aide to Hazara leader Abdul Ali Mazari, killed by insurgents in the mid-1990s.