Indian bus crash kills 22 people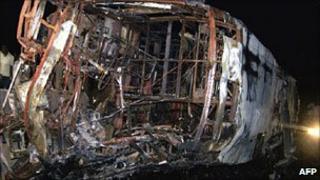 At least 22 people were killed after the bus they were travelling in fell into a roadside ditch and caught fire in the Indian state of Tamil Nadu.
The bus fell into the ditch late on Tuesday while trying to avoid a collision with a truck, police said.
The bus was on its way from the state capital Madras (Chennai) to Tirupur.
Bus crashes are common in India. Often caused by poorly maintained vehicles and reckless driving, they claim thousands of lives every year.
The police said the driver of the bus, carrying 24 passengers, lost control while trying to avoid two trucks that collided in front of the bus.
"There were two trucks ahead of the bus. One truck hit the other and the bus was just behind them. To avoid collision, the driver took a left turn and lost control and the bus plunged into a ditch," senior police official Jairam told reporters.
"Out of the 24 people in the bus, only two, including the driver, managed to come out. The rest were burnt alive."
Late last month, at least 25 members of a wedding party were killed when their bus plunged into a small river in India's north-eastern state of Assam.
The incident happened when a wooden bridge that the bus was crossing collapsed and fell into the water.