Indian activist Anna Hazare condemns police crackdown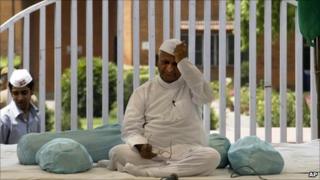 Veteran Indian activist Anna Hazare has condemned a police crackdown on an anti-corruption fast at the weekend.
Hundreds of people gathered in Delhi to hear Mr Hazare denounce police for using force to break up the protest by yoga guru Baba Ramdev's supporters.
"When injustice and oppression prevail, it is not a crime to protest," said Mr Hazare during the one-day protest.
A hunger strike by Mr Hazare in April heaped pressure on the government, which is beset by corruption scandals.
Baba Ramdev, whose television programme is watched by millions, is continuing his fast in his home city of Haridwar.
Correspondents say that the strategy of both men has made for lively political theatre, with near-non-stop TV coverage.
'Sacrifices'
Mr Hazare, who went without food on Wednesday in solidarity with Baba Ramdev, denounced the police move against the guru and his supporters as a "blot on humanity" and an attempt to "stifle democracy".
Thousands of people defied tight security to gather at the cremation site of Mahatma Gandhi, considered the father of the Indian nation, to hear Mr Hazare speak.
The activist held a fast against corruption in April, forcing the government to allow him and his supporters to help draft new anti-corruption legislation. The two sides are deadlocked over how powerful a new anti-graft ombudsman should be.
"We will have to make sacrifices. We will be humiliated also. But we will have to bear all this and take it in our stride," Mr Hazare, wearing his trademark white cotton clothes, told Wednesday's rally.
He is threatening a new fast if the ombudsman bill is not passed by August.
Baba Ramdev has vowed to continue his fast against corruption indefinitely, despite reports that doctors have warned him to begin eating again soon for health reasons.
He wants billions of dollars of suspected bribe money allegedly held overseas to be returned to India.
Around 30 people were injured when police used batons and tear gas to disperse thousands of his supporters in central Delhi on Sunday. One woman is in a critical condition.
Prime Minister Manmohan Singh said the police operation had been "unfortunate" but there had been "no alternative".
The Congress-led government is struggling with a series of corruption scandals - the biggest of which surrounds the sale of mobile phone operating licences.
Auditors say spectrum was sold off on the cheap at an estimated cost to the exchequer of $40bn. A former government minister and several others have been arrested and are being prosecuted - all deny the corruption charges against them.