Pakistan: US triple drone strike 'kills 18'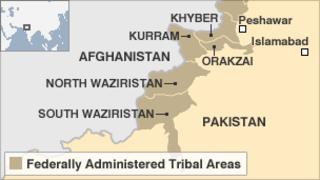 Three US drone strikes have killed at least 18 people on the volatile Afghan-Pakistan border, officials say.
The first two attacks hit a seminary and a compound in the South Waziristan tribal area, officials said. The third hit a vehicle.
They come days after al-Qaeda operative Ilyas Kashmiri was reported to have been killed in a US strike in the area.
Militants have vowed to avenge his reported killing, as well as the death of Osama Bin Laden last month.
Ilyas Kashmiri headed a group that specialises in co-ordinated multiple strikes on targets, and was a key commander in al-Qaeda.
He is widely believed to have masterminded an audacious attack on the Mehran naval airbase in Karachi last month, in which six well-organised militants managed to hold off Pakistan's equivalent of the US Navy Seals for 15 hours.
'Foreigners' killed
The first strike targeted a seminary in Shalam Raghzai, 10 km (six miles) northwest of Wana. The second attack two hours later hit a seminary in Wacha Dana, 12 km (7.5miles) northwest of Wana and the third, a few hours later, hit a vehicle in the Bray Nishtar area on the border between North and South Waziristan.
Officials say that foreign militants are suspected to be among those killed in Monday's drone attacks.
Many militants are believed to be sheltering in the semi-autonomous tribal regions of North and South Waziristan - the area has been described by the US as the "most dangerous place on earth."
United States officials do not routinely confirm that they have carried out drone attacks, but analysts say that only US forces have the capacity to carry out such strikes in the region.
More than 100 raids were reported last year in the troubled tribal areas along the Afghan border.
Many militants, some of them senior, have been killed in the drone strikes, but hundreds of civilians have also died. The strikes are hugely unpopular among the Pakistani public.
Correspondents say that in the past the drone strikes have had the tacit approval of the Pakistani authorities, although Pakistani leaders always denied secretly supporting them.
In recent months, senior Pakistani security officials have reportedly been pressing for a limit to such operations.
Violence across Pakistan has escalated in recent weeks.
On Sunday, at least 18 people died in a bomb blast at a bakery in the garrison town of Nowshera in northwest Pakistan.
Earlier, another bomb explosion at a bus stop on the outskirts of Peshawar killed six people. Both attacks are being blamed on the Pakistani Taliban.